What is an Editor?
Editors work in the Post Production team. They are responsible for meshing together the various recorded film, sound, and special effects to create the final production. Editors can work across a wide variety of productions to include, film, TV, commercials, music videos and more. In this article, we will be discussing the key responsibilities of the Editor and the skills and experience you will need to become one.
General Responsibilities 
Editors work closely with the Director to ensure the final product meets expectations. In some cases Editors will have creative input on the final product, in others they will be expected to closely follow a specified brief. While the responsibilities will vary from production-to-production, we have outlined the general tasks you can expect below.
1. Organising the film
Before any work is started, the Editor will be responsible for assembling the raw footage and then transferring or inputting it onto a computer.
2. Cleaning up
The Editor will also check all of the footage, checking the quality of the recording and such like across a shortlist or script. They will then decide which footage to keep and which bits to discard.
3. Rough cut
Using editing software, the Editor will then cut and join shots together, and ultimately create a rough cut of the proposed footage which will then be fine-tuned into exact cuts.
4. Tidying up
The Editor may also use software to enhance picture quality, add graphics, sound and visual effects. Once the elements are combined they will spend a lot of time checking over the footage to check for continuity errors and such like.
Key Skills
Interpersonal skills
Ability to work well in a team
Knowledge of editing software and techniques
A keen eye for detail
Able to work well under pressure
Highly organised

Salary & Working Hours
According to Payscale the average salary for a Film or Video Editor is £24,000, ranging from £17,000-£36,000 depending on experience and location. According to Prospects, Assistant Editors can expect to earn £18,000-£25,000, experienced Editors usually earn £21,000-£35,000, and Senior Editors earn £37,000+ when working on large scale productions.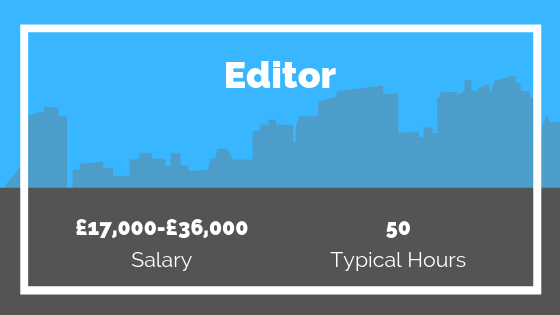 Further, you can expect to be working around 50-hours per week in this role when working on television or film productions. As with most roles in this industry, working hours can be long and are likely to increase when the production is under time constraints, as is often the case.
Editors tend to work on a freelance basis, working from production-to-production. As your experience and network of people within the industry increases, it often becomes easier to find consistent work. Rates will vary depending on the production, so it is important to stay up to date. You can find out more on the Broadcasting Entertainment Cinematograph and Theatre Union website (BECTU).
How to Become an Editor
Experience
Experience is highly valued when pursuing this job role. While there is no one route to becoming an Editor, most start out by working in a junior role on the Production, such as a Runner or Edit Assistant. After showcasing enthusiasm and drive, you can then progress to other roles such as Assistant Editor. In what is a highly competitive industry, it can be hard to break-in and get that first foot on the all-important career ladder.
Education
While a degree is not essential when pursuing this role, it can give you a head-start. After all, a basic understanding of editing software would never go amiss in this role. Met Film School offers a range of Post Production courses which can help develop your knowledge of the Post Production process, editing skills and more. Further, you will be taught by award-winning Post Production specialists. You can find out more about their courses here or alternatively watch the short video below.
If the degree route if not for you, you could always look to gain a qualification from college in a field related to Media Studies. For instance, you could look to undertake a qualification in Mixed Media Techniques or Creative Media Production.
Become an Editor Today!
If you are ready for the next step in your career, why not take a look at the latest Editor vacancies on our jobs board? You can view our latest vacancies here.