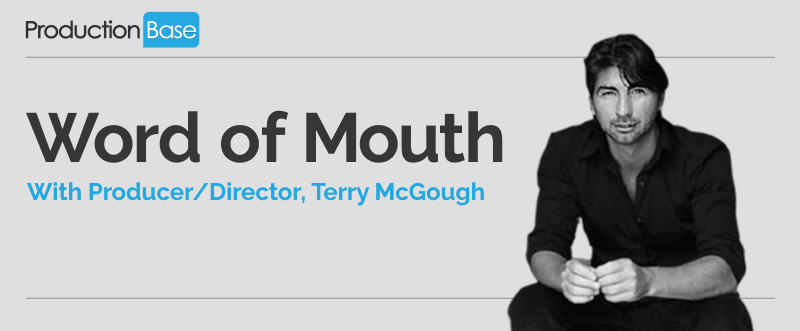 In this edition of Word of Mouth, we talk to Producer/Director, Terry McGough, on his career as a film maker: working with leading brands, superstar musicians, and embracing the rise of branded content.
You originally started out as a photographer; what made you want to pursue a career in filmmaking?
I was a music photographer and was asked by an artist's management company to come down onto a music video shoot to film some behind the scenes imagery for PR use. For the first time in my life I saw what a cinematographer actually did.
The artist was a very beautiful girl but the difference between the artist sitting in the dressing room and the one that the cinematographer had lit was just an incredible optical illusion; playing with light, he had transformed this girl into a superstar. I had never seen anything like it, it was like watching a magician paint with light.
I literally had a light bulb moment and fell in love with cinematography and just knew that this was the art form for me, as it just resonated with me. I began researching cinematography and taking any chance I could to get on set, paid or unpaid, just to be able to watch and learn. Then as I got into fashion photography, I took all those things and got to practice my lighting on models. I didn't always get it right, but in time it just clicked – now my lighting skills are the cornerstone of everything that I do.
You've worked with many big names and brands – what was your first big break as a producer/director?
I was photographing an album cover for an artists management company and as a way of building my show reel I would light the photo shoot as though I was lighting for a music video, and film it as though it was a behind the scenes video. Thankfully the manager loved the look, feel and style of how I had shot and edited the behind the scenes piece and took a chance on me – letting me go from shooting B Roll behind the scenes stuff to producing and directing two music videos of two of her artists on location in Mallorca.
To say it was a steep learning curve to go from shooting stills to directing two music videos in a week would be an understatement, as I remember it feeling like being in a wind tunnel of stress for 5 days. But because it was filmed on location in Mallorca, with lots of incredibly early starts and lots of late finishes, I was able to make the most of the early morning and late evening magic hours of light to create two music videos that look like they have amazing production values – in reality they were made with a crew of just three, including myself, but it was definitely my big break in terms of making the transition from photographer to director.
You've worked across music, entertainment, and fashion – which would you say is your favourite type of project to work on, and which presents the most challenges?
Beauty is my favourite type of project to work on as it combines all the elements of music, entertainment and fashion that I enjoy but it also allows me to combine the two things that I love the most: lighting and portraiture.
Which leads to my biggest challenge as director, which is letting go of the camera. The intimacy that you create as a director with a model or actress is about the relationship between you, so finding a cameraman that I can trust and hand over to is my biggest challenge right now.
You specialise in creating images and editorial content for actors, models, musicians and artists. Are there any pitfalls involved in working so closely with high profile individuals in this way?
Not really, as in my experience, creatives just love being with other creatives and playing creatively. The high profile stuff is what it is and yes it is easy to get star struck when an icon walks in the room and asks you "what we should do?" But this is a business and they are giving you their time – they clearly value what you do or they wouldn't be there.
Once you get past the high profile stuff, it really is creative to creative and they are handing over the reigns and trusting you with their image. But we both want the same thing, to create something, so our goals are the same and then its very much about trust. It's only afterwards you think "that was Paul McCartney, I can't wait to tell my Mum what a nice guy he is and how cool it was sitting next to him by his piano as he performed Let It Be…"
You frequently create online video content for major brands. What do you think is the key to giving this kind of content a broadcast quality feel, even with the smaller budgets usually involved?
The key for me is to spend the money on the lighting, art direction, set design, hair, make up, styling and models…then the choice of camera. In an ideal world you'd have the money for all of those, but the only way that I have been able to make online budgets work and have something that looks like broadcast quality is to cut the broadcast quality camera hire costs out of the budget.
I filmed all my Bare Minerals videos on Cannon 60D's, and again, if something is well lit it will hold up, even on a 50 inch TV screen – as I learnt when presenting the finished videos to the Bare Minerals marketing department, even though the reality was it was never going to be seen bigger than on You Tube.
That's the only way that I can see making online budgets work, along with smaller crews and having more time – so whilst the budget aren't as big, if something is more considered through having the luxury of space and time, then it's possible to create a broadcast quality look and feel that fits within online budgets.
There's been huge growth in the branded content sector in recent years. Do you see there being much overlap between this and more traditional broadcast content, and is it possible to have a career working on both?
Yes and No. I think that people get slightly confused by the term 'branded content' and think that because they can create journalistic content that the transition from creating segments/interesting pieces on This Morning or Lorraine to branded content will be easy and a natural transition because "it's only online".
It's something that I hear a lot from film makers: that they understand how to tell a story and focus on narrative, characters etc. But they tend to misunderstand that branded content is advertising in sheep's clothing – the smokescreen is interesting content, but the iron fist within that velvet glove is increased sales.
It sounds blunt and rails against the bohemian idea of being a film maker and storyteller, but it is what it is and if you're lucky enough to already be in TV and films hold onto those ideals. But in my world, its sales and Google Analytics and when you hit a home run at least you know! It's terrifying but also exhilarating and not for everyone.
Are there any types of project you'd like to work on in the future, and what would be your dream job?
My dream job would be to be shooting the stills and directing the video for a beauty campaign, and seeing the use of print and video come together in unison, like the wonderful imagery that Peter Lindbergh is creating for L'Oreal with actress Naomi Watts. Again for me it goes back to the lighting, and to see that reflected in both a stills and video campaign would be incredibly satisfying.
What advice would you give to people looking to start a career in filmmaking?
Follow the lead of the American art schools and take some courses or read about marketing, as this industry is only going to get more and more saturated as the barriers to entry come down further and further. Without marketing yourself and knowing who your customer is, you won't make it far, as its only going to get more and more competitive.
Terry McGough is a Producer/Director, and a ProductionBase member. You can get in touch with him with via his PB Profile. If you'd like to be featured in a future Q&A, let us know!