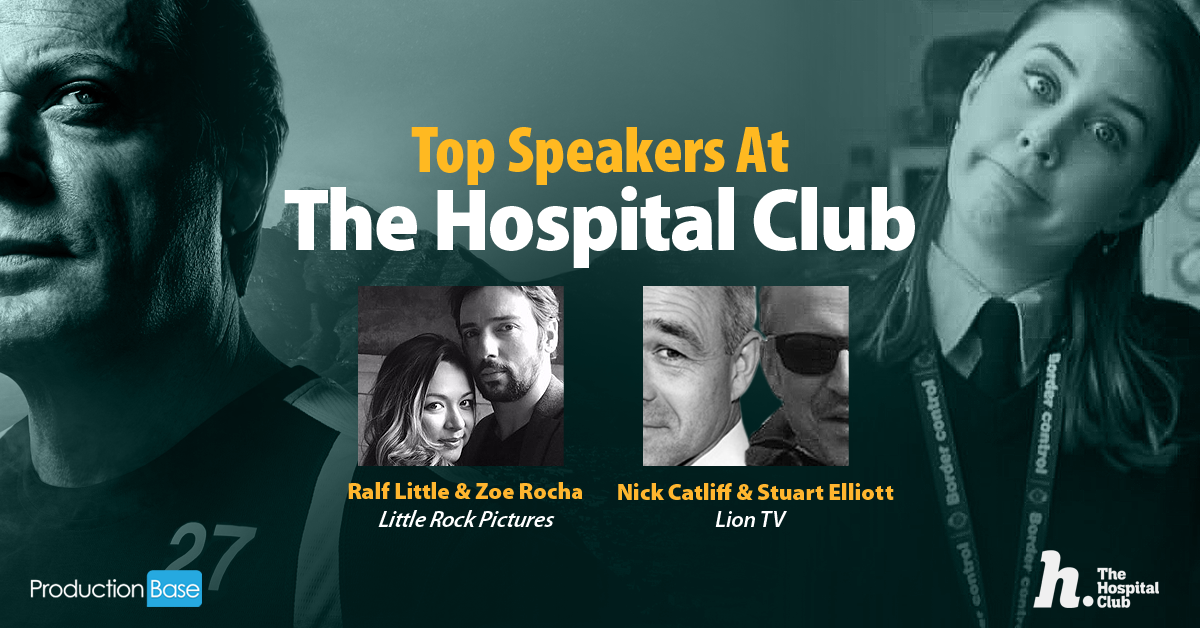 We've got more top speakers lined up for the latest in our series of sold-out Turn On, Tune In events at The Hospital Club this Thursday! Find out more about LittleRock Pictures' Ralf Little & Zoe Rocha and Lion Television's Nick Catliff & Stuart Elliott. We'll be taken behind the scenes of their ground-breaking shows, and find out a few of the secrets of their success!
Ralf Little & Zoe Rocha
LittleRock Pictures was launched in 2015 by actor Ralf Little and executive Zoe Rocha, in partnership with Sky Vision. Prior to launching LittleRock, Zoe was COO of Sprout Pictures, where she worked as comedy and drama executive producer on several projects, including Emmy award-winning Sky 1 comedy Moone Boy.
Ralf is a well-known actor and writer who was cast in acclaimed comedy The Royle Family at the age of 18 and has since taken on many acting roles, including long-running BBC Three sitcom, Two Pints of Lager and a Packet of Crisps and Factory Records biopic, 24 Hour Party People. He has also written and starred in series such as The Ralf Little Show, and Sky 1 comedy The Café, as well as penning a one-off episode for the Sky Arts Playhouse Presents strand.
Ralf and Zoe will be revealing the story behind their groundbreaking part-improvised sitcom for Channel 5, Borderline, a mockumentary narrated by Ralf where the audience follows a team of inept UK border officials. The show was aired to positive reviews, with The Telegraph saying that the show was "proof that the mockumentary is alive and well".
Nick Catliff & Stuart Elliott
Nick and Stuart from Lion Television will be discussing their success in immersive history, including BBC Two's Victorian Farm and Full Steam Ahead.
Lion was launched in 1997, and has produced numerous entertainment formats, daytime, ambitious science and history shows for major broadcasters. Along the way it has received a number of accolades, including an RTS award, Learning on Screen award and several BAFTA's, and is now part of the All3Media group.
Managing Director, Nick Catliff, has worked across a wide range of genres, notably history programmes such as The Dambusters Great Escape (Channel 4) and Bomber Boys with Ewan McGregor (BBC One). Nick is also responsible for Lion USA where recent productions include Restaurant Redemption and Junk Food Flip (both Cooking Channel), Money from Strangers (MTV), Epic Feuds and Deadly Devotion (both Discovery ID).
Series Producer and Director, Stuart Elliot, has worked on various projects for Lion over the course of more than 13 years. As well as his work on Lion's immersive history series, his credits include shows such as Viking Apocalype, Electric Dreams and The Divine Michelangelo.
Nick and Stuart will be discussing their long-running collection of history series featuring historians Ruth Goodman, Alex Langlands and Peter Ginn. These have included Victorian Farm, Secrets of the Castle, Tudor Monastery Farm, Edwardian Farm, Wartime Farm, and most recently Full Steam Ahead, which saw the team bring back to life the golden age of steam, and explore how Victorian railways helped to shape modern Britain.
Turn On, Tune In takes places this Thursday (8th September). All places for the event have now been filled, but if you'd like to be added to the reserve list, please head over to our Events pages.