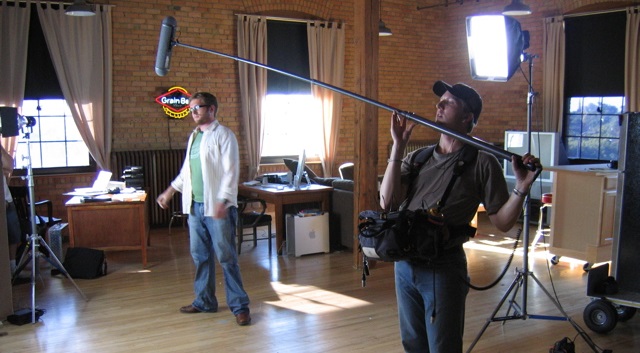 What is a Sound Assistant?
Although the hours are often long and fairly intensive, working within the sound department is a good opportunity to gain a foothold in an entry-level position within the industry. Working under the supervision of a good production sound mixer can be the perfect platform to gain practical experience whilst developing your craft as a sound recordist.
What is the Job?
The primary responsibility of a sound assistant is supporting the production sound mixer and boom operator to ensure that the sound department is running as smoothly as possible. As part of the production sound crew, sound assistants are often one of the earlier calls on set to help with setups and to ensure that all equipment is in working order and fully charged. During the shoot, sound assistants are also responsible for repositioning microphones, assisting the boom operator, removing any unwanted sources of noise, ensuring audio receivers are operational for dialogue continuity and ensuring that all sound discs are stored and labeled correctly at the end of each day. However, as entry-level position trainees are also responsible for the typical duties of a department runner such as making tea and coffee, setting up and de-rigging and ensuring that the workspaces are clean and tidy for the sound department. On larger scale productions, there is occasionally the opportunity for trainees to operate a second boom to record off-screen dialogue.

Key Skills
Developed knowledge of microphones and equipment
Basic knowledge of electronics
Good communication skills
Discretion and awareness on set
Attention to detail
How to get work as a Sound Assistant
Finding the opportunity to work under the guidance of a good Production sound mixer and boom operator is perhaps the key to gaining invaluable experience as a sound assistant. It's common for most sound assistants to work with the same production sound mixer and boom operator across both film and television so finding a good working relationship is important.
Working on student productions can be a platform to learn the craft in a less intense shooting environment and whilst it may not be the most experienced professionals on set, the opportunity to develop a network of aspiring film-makers makes it a worthwhile venture.
Working for larger rental houses can provide a good opportunity to develop industry contacts whilst learning the inner workings of various sound equipment used on both television and film sets.
Training
Short courses are a valuable method of learning a craft amongst like-minded people and it provides a solid platform to both network and work under the guidance of established industry personnel. Since the FT2 qualification ceased, undertaking a largely practical short course to develop the theoretical knowledge and practical experience that has been established throughout a degree has become a popular avenue to explore. Depending on budgetary constraints, there are a wealth of courses on offer across the UK that can a candidate to work as a camera assistant/trainee within the film and television industries.
The National Film and Television School offer courses that provide a solid grounding in the principles of sound recording with an in-depth look at the techniques used in location sound recording and production sound recording. Courses include recording sound on location, working methods for single camera drama and documentary shooting, the use of microphones and location mixers as well as first line maintenance tuition and an overview of non-linear and multi-track recording. Alternatively, developing your knowledge of audio engineering with a short course in audio production can be a good opportunity to develop your understanding of the methodology of production sound recording.
Become a Sound Assistant today
If you are ready for the next step in your career, why not take a look at the latest Sound Assistant vacancies on our jobs board? You can view our latest vacancies here.