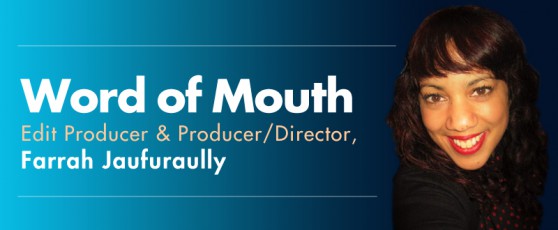 In this edition of Word of Mouth we talk to Edit Producer and Producer/Director, Farrah Jaufuraully, about the joy of working on kids TV, the creativity of the edit, and the perils of working with animals.
What was your first job in the industry?
From the age of 15, I dipped in and out of work experience: I worked at my local radio station, had a stint on BBC Watchdog when I was at university, and then took on a summer job as a Runner for a west London film company. Two months after I graduated, I was offered a Researcher job on a Nickelodeon show.
You've worked on some of the UK's most popular programmes. Which would you say has been favourite to work on so far?
Tough question. I've really enjoyed the shows where you genuinely help somebody make a life change and you go home feeling like you did something useful. Shows such as Embarrassing Bodies and The Joy Of Teen Sex were series where I played a part in solving people's problems. Equally though, I enjoyed TOWIE and World's Most Talented because I loved my team, and going to work was a joy.