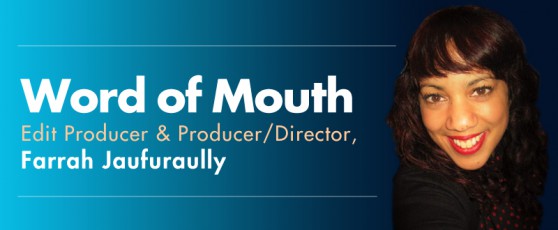 In this edition of Word of Mouth we talk to Edit Producer and Producer/Director, Farrah Jaufuraully, about the joy of working on kids TV, the creativity of the edit, and the perils of working with animals.
What was your first job in the industry?
From the age of 15, I dipped in and out of work experience: I worked at my local radio station, had a stint on BBC Watchdog when I was at university, and then took on a summer job as a Runner for a west London film company. Two months after I graduated, I was offered a Researcher job on a Nickelodeon show.
You've worked on some of the UK's most popular programmes. Which would you say has been favourite to work on so far?
Tough question. I've really enjoyed the shows where you genuinely help somebody make a life change and you go home feeling like you did something useful. Shows such as Embarrassing Bodies and The Joy Of Teen Sex were series where I played a part in solving people's problems. Equally though, I enjoyed TOWIE and World's Most Talented because I loved my team, and going to work was a joy. 
What is a typical working day for you as a Producer/Director?
It can vary according to the project and whether you're on location or not but generally a quick tidy up in the morning, checking correspondence that needs to be actioned, checking if any storylines need tweaking, checking your team are OK and know what they are doing and if necessary, speaking with your Series Producer or Exec. Then getting on with chatting to contributors and building a narrative or going out on location to make the story come alive. I'm generally the last out of the office before the Series Producer!
You have recently worked as an Edit Producer – what is it that you particularly enjoy about this role?
I love the relationship between Editor and Edit Producer and have been lucky to work with some very talented editors. If you hear laughter in the edit, it's probably from our suite. I like working out what the bones of the story are and I feel it's a very creative process. Turning a mess into a wonderful finished product that makes people happy is something that, as a born problem-solver, I just love getting stuck into. I got into TV to tell stories. Here, I do. And drink as much coffee as I like.
You worked on The Dog Rescuers and Lost & Found – what are some of the challenges that come with shooting obs docs involving animals?
Haha! The one piece of advice my Series Producer on The Dog Rescuers gave me was to not touch the dogs. A PD with a bitten hand was of no use to him! Animals are just unpredictable. I saw this on location and in the edit. They won't look your way when you need them to, for example, or play dead when they should. They also pee when you least expect them to!
You're hugely experienced across a range of genres, including children's, reality & factual entertainment – which genre is your favourite to work on and why?
I'll never get tired of children's shows, because kids are a never-ending source of wonder – everything is crazy to them and they are not afraid to say so. Factual Entertainment continues to enhance my own learning. You can never know too much and I have worked on lots of shows where I previously knew nothing about the subject matter. Ask me anything you like now about Clarice Cliff, dogs in hydrotherapy or Arak.
What are your top tips for maintaining a successful career within the industry?
Be nice to people! And always deliver on your promises, whether it's to get a script finished by a certain time or to call a contributor about a TX. Keep focused on what you actually enjoy, are good at and want to do, and change direction as and when you need to. For ages I thought self-shooting was what I had to do, but I much prefer writing so I have moved in that direction and I think I'm now a happier person doing a better job. I've done nothing but television and I do not think that I will ever leave.
What shows would you have liked to have worked on and why?
I love the work of Sue Bourne. She gets right to the heart of the emotion and makes really ordinary stories extraordinary and stick in the mind. I love dating and cooking shows. They are just fun, switch-off and enjoy programmes. The casting on First Dates is so right! There's a great team on that. I love it when there's a happy ending and people actually get it together.
How do you think the industry has changed since you first started out?
People always say there's less money but all I know is that I'm working with really young people now and when I started everyone was really old! Also I've seen a shift from working in Soho to out of Soho and back again. Also the very obvious shift from having sound and camera for everything to becoming one-man-bands, right down now, it seems, to researcher level.
However, on a more positive note, I think there's been a huge leap forward in implementing safety measures and taking worries seriously. Matters related to sexism and racism are no longer ignored and tend to get stamped out.
What will you be working on next?
I'm very excited to be working on the next series of Dinner Date! It's just warm and funny and I've been watching it for years.
Farrah Jaufuraully is an Edit Producer and Producer/Director, and a ProductionBase member. You can get in touch with her with via her PB Profile. If you'd like to be featured in a future Q&A, let us know!