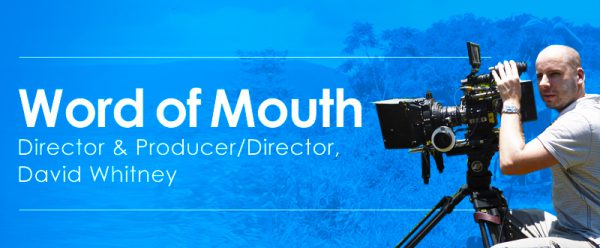 In this edition of Word of Mouth we talk to Director and Producer/Director, David Whitney, about his career to date – working around the world on TV, film and branded content projects.
How did you get your big break, and what was your first job?
My first job in the industry was working as an Assistant Grip on a low budget feature film in the late 90s. I was still a teenager and it was all very new to me, in fact I thought it was crazy – lots of grown ups shouting at each other, people crying on set, tantrums, numerous affairs… but it was great fun and didn't put me off.
I knew I didn't want to work on the technical side of things, so I took a job working as a Production Assistant at a well-known film company. One thing led to another and in my early twenties I got the opportunity to direct some corporate jobs, then TV commercials.
In 2005 I directed a short film, which led to my nomination for BBC New Filmmaker of the year, and from that I began directing TV drama, as well as more ads and branded content. After festival success for my short film, George's Day (starring actor Michael Byrne), I raised the finance for my debut feature, which was released around the world and picked up by Netflix. This has led to countless other opportunities shooting all over the world. It's been a fascinating ride!