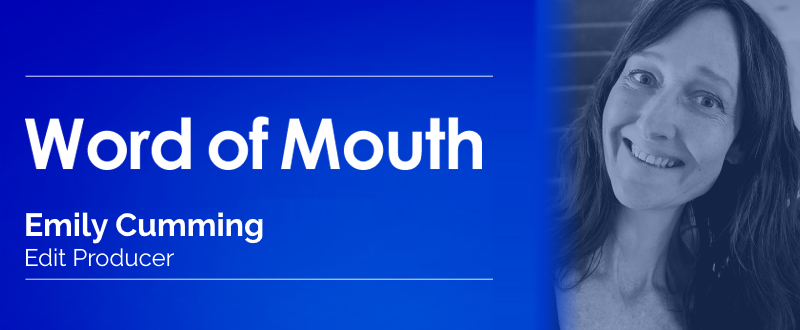 In our latest Word of Mouth newsletter we talk to Edit Producer, Emily Cumming, about life in the edit: building characters, dealing with Execs and the move to remote working.
What was your first job in TV?
After a stint as a Runner for a small indie in Brighton on a youth magazine show for ITV Meridian, I was lucky enough to be taken on as Production Co-ordinator when a vacancy suddenly opened up. I'd been working in theatre before that, so I had some transferable skills and a bit of life experience. As well as doing all the usual Production Co-ordinator jobs for the magazine show and the other arts series the company made, I'd run off copies of rushes for logging, drive the weekly TX master tapes to Meridian TV HQ, and swing a boom on location. I was able to get a real feel for what different jobs involved across the board as it was a small office and you could see and hear everyone doing their work. It was a very auspicious start and I'm supremely grateful that I got it!
What would you say has been the defining point in your career?
Probably getting my first Edit Producer job. I'd been in the edit before as a Producer/Director and Producer, and even way back as a Researcher (regional telly really did give you incredible opportunities to upskill and grow!) but the EP job was a very new one at the time and I got some sound advice that it was going to become a 'thing'. In that first job, I felt I'd found a role that was going to be really natural and sustainable for me, personally. I'm so glad that I went down that route and I am forever grateful for that steer!
What made you want to become an Edit Producer and what do you enjoy about the role?
My first Edit Producer job (as in, the first time I was working with rushes I hadn't been on the shoot for) was a new ITV format that involved quite a bit of historical storytelling using archive and dramatic reconstruction, and it really hooked me in. I'd always felt at home in the edit; finding the story, hunting down the great moments, writing voiceovers and thrashing out ideas with the Editor. Creatively, I just love the process of starting with a load of uncut footage and ending up picture locking a programme that everyone's really proud of. There's nothing like that feeling!
How does a day in the life of an Edit Producer look?
Like any other TV job – busy! For starters, a lot of it is spent with headphones on. Mostly, you'll need to be a scene ahead of the Editor, pulling and marking up actuality or interviews. Or maybe you and the Editor are splitting the load to get through all the material in the early stages, before passing bits and pieces back and forth. So you might be reviewing, cutting down and scripting a scene the Editors had their pass at, scripting an archive package, talking to the Field Director about pickups or writing up interview points that need to be covered. You might be moving post-its around on the wall as the programme structure starts to take shape or change, sorting out viewing times or requesting additional rushes so the editor can crack on and work their magic.
How has your role changed during the pandemic, and have you managed to work remotely successfully?
Working remotely has been successful, for sure! Edit Producers and Editors were starting to talk about home working before Covid happened. The role in itself hasn't changed at all. You're on the phone a lot instead of being in the same room talking, but when you consider that you spend so much of the day wearing headphones it doesn't make too much difference.
What has been more challenging are those times when there is a tricky or nuanced bit of editing to do and you're not sat there looking at the same thing as your Editor, but then it boils down to great communication and a bit of patience on everyone's part. There is software where you can actually see what the Editor is doing on-screen in real time (affectionately known as spy-cam, and it works both ways!) which wasn't in use on the most recent series I was doing, but I'm sure it'll become more common as time goes on.
What's the most challenging production you have worked on and why?
I think most Editors and Edit Producers would agree that the biggest mountain to climb is when you know what the Exec and Commissioning Editor are going to want to see, but there are big holes or issues with coverage or narratives. It's your job to identify what those issues are, and make it work as best you can. If you can't sort out the problems easily in the edit, you need to raise them in the right way, with the right people, at the right time, whilst also offering up potential solutions. That's not always easy.
I once came on to a series to work with two Editors to recut the whole thing. Something had gone terribly wrong with communication somewhere along the line – the Commissioning Editor had apparently viewed a few episode cuts and said that the series was nothing like what they had asked for. It was a real challenge to repurpose an entire series' footage that had apparently not been shot or cut with the 'right' end result in mind. There were some big legal issues to surmount with the footage, as well as the obvious editorial ones! The edits where you and the Editors really have to dig deep and wrestle with the rushes to make them work are so valuable in terms of learning and helping prepare you for future challenges.
How do you approach characters to make sure you do them justice?
By taking a forensic approach to the rushes. For every character who's a total gift, there are so many who take a lot more work. You need their story to be clear and for people to engage with them, so it's about asking; what are they up against and what's at stake? What would succeeding or failing mean to them and how could that change their life? What makes them as personalities unique and relatable?
In fast turnaround formats especially, things can get missed in the rushes or cut out at the last minute to get the content to time. So it's about bringing it back to the character's USP and story-line. A whole scene or narrative can be transformed by finding a moment where a character lets their guard down or reveals something seemingly small about themselves.
What tips would you give someone who is starting out as an Edit Producer?
Firstly, if it's your first day as an EP it would be unfair for people to expect you to know everything, so don't panic. Talk to your Editor about who is going to do what in terms of getting through the material and agree a plan across the edit schedule.
Then once you get down to it, don't get overwhelmed by the volume of rushes. Check what logs exist to help you. Note, note, note. Be organised. Get the basics in – the crucial scenes that build your narrative. Remember, the last scene will usually dictate the earlier ones – how did the character/story get to that point? You can leave holes for the rest in the early stages.
Also, there are no stupid questions! The worst thing you can do is be sat there not knowing what to do next. If you've not got a task, find one. Even if you're early on in the edit and perhaps waiting on stuff from your Editor for you to cut down or script, you could be hunting down great music, watching other cuts of the same format, going through interviews, or trying to anticipate what might be needed down the line.
You've worked across a wide range of shows, from Ob Docs and Factual Entertainment to Reality shows. Are there any other programme genres you would be interested to try and why?
Yes. I'd love to do more jobs involving drama reconstructions and retrospective storytelling – for example true crime docs. As well as watching true crime obsessively on Netflix and Amazon, I've absolutely loved working with Editors to get creative by making use of all types of available footage on the police documentaries I've worked on, where for some stories the only original footage you've got is from one police dashcam. It's such an enjoyable process and structuring an entire retrospective story would really appeal to me.
How has the industry changed since you first started out?
It's way bigger now! When I was new to TV there were only four UK terrestrial channels and around twenty cable channels. Shooting was on tape and you had to be really economical with filming and what rushes got into the edit. But crucially, compared to when I was starting out, it's now so much harder for people to get into the edit in the first place, where you really learn what you need in terms of shots, sound, actuality, interviews, character portrayal, narratives – everything.
We need to make sure that jobs are open to all those beautiful brains out there and I sincerely hope that those who cannot afford to do placements on low pay will be helped in and helped up more and more. There's no way I would be where I am now had I not had a chance to experiment and grow in smaller companies, who were willing to take a punt on me and allow me to learn from my mistakes!
Emily Cumming is an Edit Producer, and a ProductionBase member. If you'd like to be featured in a future Q&A, let us know!