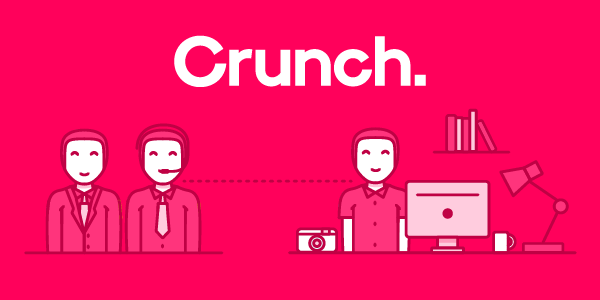 Did you know that as a ProductionBase member you can get discounts on a growing range of industry services? From kit hire to mortgages, and car hire to accountancy. In their latest guest post, the guys at Crunch tell us more about their accountancy services, specially tailored for freelancers. All ProductionBase members are entitled to 10% of their first year's fees.
Well, this is a little embarrassing. We've been writing for ProductionBase for months now, and we still haven't properly introduced ourselves!
In the spirit of things being better late than never – hello! Erase everything you think you know about Crunch, and let's get to know one another properly, shall we?
Who are Crunch?
We're an online accounting service that supports freelancers, contractors, and practically anyone who's self-employed.
Let's face it – the self-employed life isn't your standard nine-to-five, but not everyone seems to appreciate that. That's why we tailor our services to work around you, all to make your life as easy as possible. We combine bespoke, online accounting software with actual human beings, so that you're always able to access your accounts and seek the expert support and guidance you need.
There's no hidden costs or long-term contracts with Crunch, either. No matter which limited company package you're on, advice and access to your client managers are completely free. Remember, no question is too silly or too obvious!
What limited company packages do you offer?
We have three limited company business packages, each suitable for businesses of various different sizes and circumstances:
Basic
First up is our Basic package, which includes a team of helpful client managers to get to know your business and offer day-to-day help and support. You also get access to a team of chartered certified accountants for expert advice and our easy-to-use online accounting software.
Keeping on top of your finances is simple. You get a real-time view of how much tax you owe and all your business filings are taken care of. You just raise your invoices, link your bank account and use our handy apps to record expenses and mileage. We'll prepare and file your annual accounts and MTD-ready VAT returns, help run simple payroll for directors, make it easy to take tax-efficient dividends and much, much more!
This package is perfect for anyone with simple limited company accountancy requirements.
Plus
Next is our Plus package. You'll find everything in Basic making a reappearance here, along with a host of extra goodies, such as faster response times, bundled add-ons and live chat. As well as your own dedicated team of client managers and accountants, you'll get your personal Self Assessment return, one standard IR35 contract review, and an Accountancy Healthcheck once a year all included.
If Basic is for simpler limited company accountancy requirements, Plus is the next step up – your business is growing, and our services are growing with you.
Small Business
Finally, we have our Small Business package. This package is ideal if your business has grown to take on employees and needs extra support, and expert insights to free up your time and help your business grow. You'll get your own dedicated accountant and bookkeeper, our fastest response times, two Accountancy Healthchecks, in-app chat, and payroll for up to 10 employees, to name just a few.
Best of all, thanks to our partnership with ProductionBase, you can get an exclusive 10% discount on any of these packages!
What if I've not started a company yet?
Not a problem! There are two options here – we can either take care of the set-up process for you when you join Crunch as part of your initial set-up fee, or we have a self-service Crunch Company Formation site where you can do it yourself for just £10. Best of all, we'll refund your £10 registration fee if you take up a Crunch limited company accountancy package at the same time.
Anything else I should know?
Well, there is one other thing we'd love to tell you about – Crunch Chorus! It's our own self-employed community, where you can interact with thousands of people embarking on their own freelance journeys.
As a Crunch Chorus member, you'll be able to download a range of free tools, spreadsheets, and business guides. You can also join our Crunch Chorus Facebook group, and share your experiences with thousands of self-employed people just like you. The best part? Crunch Chorus membership is completely free, and it always will be.
If you'd like to learn more about anything we've discussed here, you can find more information on our prices, packages, and special ProductionBase offer on our ProductionBase page. You can find out more about Crunch Chorus as well, or book a call with one of our experts if you'd like more information on which package is right for you.