What is an Art Director?
The Art Department is the biggest department in most productions, in terms of crew members, costs and workload. The Art Director leads the department by realising the vision of the Production Designer.
On feature films, the Art Director is the 'Project Manager' of the Art Department. Appointed by the Production Designer, they are responsible for the whole Art Department crew. On TV productions they can also handle scheduling and budgeting operations, whilst the roles of Art Director and Production Designer are often combined in smaller productions.
That of the Art Director is essentially a cross-department job, dealing with locations, transport, image rendering, and even accounting. They have to attend weekly meetings with the other heads of departments during pre-production and make sure they are always on the same page as the Production Designer.
During production, along with overseeing construction and dressing of all sets, making sure they are consistent with the creative brief, they also monitor shots (usually only on smaller productions) and supervise the dismantling of sets at the end of the shoot. They are also tasked with making sure the art department budget is balanced.
For more long-term settings, they take care of the necessary permissions, contacting engineers and authorities, and of maintenance.

Key Skills
For the more 'artsy' part of their job, Art Directors must possess visual intelligence, knowledge of construction methods, interior design and architecture, as well as a good eye for detail and decoration. Drawing and 3D modelling skills are also a plus.
Moreover, a broad understanding of the functions and roles of all departments within a production is essential, along with a methodical approach to work, a reliable profile, diplomacy and leadership.
In summary, the key skills and knowledge needed to become an Art Director are as follows:
Knowledge of production processes across film, TV, theatre and commercials.
Creativity in abundance, to include artistic and drawing skills, mould-making, sculpting and painting.
Understanding of how the Art department operates and the different responsibilities each person holds.
Salary and working hours 
The salary of the Art Director will vary due to the size, type and location of the production. According to BECTU, when working on a major feature film an Art Director could expect to earn anywhere between £1,890-£2,310 over a 5 day period. Comparatively, when working on a small feature or TV drama an Art Director may look to earn between £1,155-£1,795 for the same period.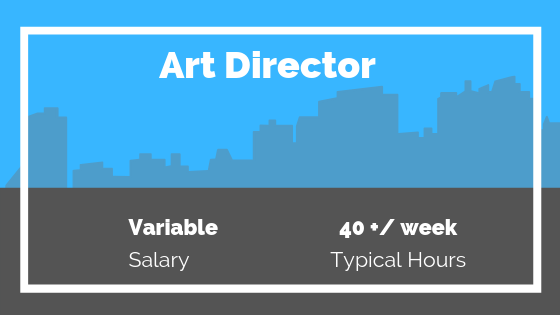 Working hours vary depending upon the same factors noted above. However, it is not unusual for some unsocial and long hours to be worked if a production falls behind schedule. If you are looking to become an Art Director you should be prepared to travel abroad for long periods of time, should the production require it.
How to become an Art Director
This role usually requires a qualification such as a degree in Art, Architecture, Theatre, Interior or 3D Design. Higher education courses in TV or Film production may also be beneficial, but in this role on-the-job experience is what really counts.
Being the highest role within the Art Department, you will have to possess the whole range of skills and knowledge involved. In order to do so, you will ideally start as an Art Department Assistant and work your way up through the ranks of the department, which can take many years.
Become an Art Director today
If you are ready for the next step in your career, why not take a look at the latest Art Director vacancies on our jobs board? You can view our latest vacancies here.