What is a Camera Operator? 
While the Director and the Director of Photography set up the mood and the style for each shot, the ones who are hands-on behind each shot are Camera Operators, who combine their technical knowledge with creative input to make sure each clip is a perfect fit for the final product.
Camera Operators work under the Director and Director of Photography and often work closely with technical departments to include sound and lighting. Camera Operators work across a variety of mediums recording moving images. They create the film for music videos, corporate productions, films, TV programmes, and commercials. In this article, we will be discussing what responsibilities you can expect from this role, and the key skills you will need to become a Camera Operator.
What does a Camera Operator do?
Camera Operators usually start working in early pre-productions, attending technical recces with other Heads of Department. They execute the instructions of the DoP and the Director while being responsible for their Assistants and Trainees. If and when technical issues arise, the Camera Operator is responsible for resolving these problems.
After shots have been rehearsed and the camera has been positioned by the DoP, it's the Camera Operator's responsibility to take care of all aspects of the operation of the equipment. Importantly, they will follow a camera script adhering to the directions of the Director. To stay ahead in this role it is important to study scripts before filming to ensure the smooth running of the production.
Camera Operators have the responsibility of setting up the equipment before any shot and of keeping everything ready for any last-minute changes. They also oversee the work of their Assistants and Trainees in maintaining and preparing the equipment.
They work closely with the Director and DoP to agree on the details of each shot, but also with crew and performers to communicate what's being framed in the shot and, if necessary, adjust positions and shots accordingly. Additionally, the Camera Operator will be expected to choose the correct lenses for each shot.

Depending on the size of the production the role of the Camera Operator may vary. For instance, on larger productions Camera Operators have different roles such as the First Assistant Cameraperson or the Second Assistant Cameraperson.
The First Assistant Cameraperson, also known as the Focus Puller, is thought of as one of the most difficult jobs on a production. They are responsible for maintaining image sharpness by changing the lens' focus distance. You can find out more about this role here.
The Second Assistant Cameraperson is often referred to as the Clapper Loader. The Clapper Loader assists the Focus Puller. They are responsible for loading the raw film stock into camera magazines. You can find out more about this role here.
Key Skills
Interpersonal skills
Ability to work well in a team
Technical know-how
Ability to work well under pressure
Stamina to work long hours
Technical knowledge of Cameras, Lenses, focus systems and (possibly) a specialisation in operating Steadicams, Moving Heads and so on are an absolute requirement for a Camera Operator. Keeping up with technology is equally necessary.
Being responsible for the actual looks of single shots to reflect exactly the DoP and Director's ideas, you need attention to detail, precision and also artistic ability.
You may be asked to contribute with creative ideas to the construction of the shot. For this reason, Camera Operators should also have an eye for aesthetics and style.
Coordination (both in the physical and in the social sense) is another key skill for this role, which involves constant movement, but also a lot of communication with other members of the crew and the cast.
Salary
According to PayScale the average Camera Operator salary in the UK is £25,199 per year, but varies widely depending on the scale and budget of the production: Anything from £19,000 to £41,000 depending on experience and location.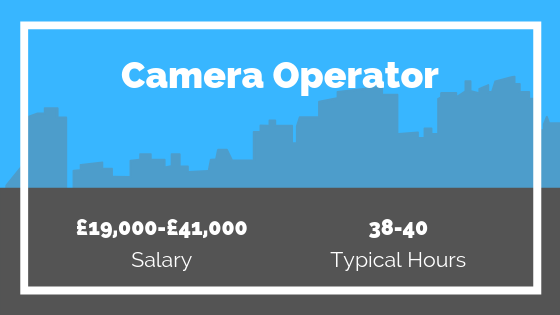 As is the norm in this industry working hours can often be long and unsociable. In some cases, Camera Operators can work up to 14 hour days. Thus, having stamina and determination in this job role is absolutely essential. Travel is often a necessity with this position, and depending on the requirements of the production you could find yourself working overseas for long periods of time.
You will need to be enthusiastic and determined to succeed in this role. Often work can be hard to find when starting out in this role. However, if you persevere and build your name in the industry only good things will come.
How to Become a Camera Operator
Your first job will probably be as a Runner, or even better, as a Camera Trainee. Experience and quick-learning will guide you up the ranks of the Camera Department, progressing to 2nd AC, 1st AC and eventually to Camera Operator.
Although no specific qualification is required, many Camera Operators take film courses or degrees in higher education, to learn both theory and practice of this job, that straddles both art and science. You could look to take a degree in journalism, performing arts, media production or media studies.
The Met Film School offers a huge range of courses which could help you get that first step on the career ladder. Further, the Broadcasting Entertainment Cinematograph and Theatre Union (BECTU) offers training courses.
However, most of your skills will start developing as you start working. When looking to fill this role, employers often favour practical experience over qualifications. If you are struggling to get into the industry, or you are just looking to get a headstart you could look to volunteer to work on local community productions.
In what is a highly competitive industry it is important to stay up to date. Technology in the Camera Department changes quickly and keeping pace with new developments is key.
In terms of career progression, the next step up in the Camera Department is that of the Director of Photography, for which you will have to prove exceptional creative flair, along with technical efficiency.
Become a Camera Operator Today 
If you are ready for the next step in your career, why not take a look at the latest Camera Operator vacancies on our jobs board? You can view our latest Camera Operator vacancies here.