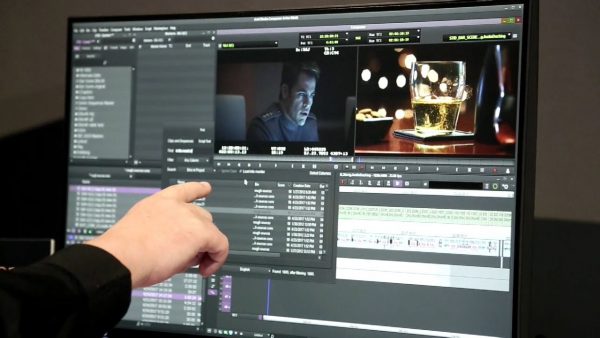 Software for professional editing: the pros, the cons and where to start from.
There are many alternatives on the market, but just a few are used by professionals and learning all the tricks of the trade takes time and experience. So what are your options?
Avid Media Composer
The undisputed industry standard for feature films and big productions, which is equipped with the most stable platform for the most complex workflows. Plus, with a complete set of tools to make the most of shared storage and multiple operators working on the same project, it is the go-to choice for post-production companies and editing studios dealing with large teams and complicated setups.
Moreover, Avid also produces Pro Tools, which is the industry standard for sound editing. The compatibility between the two software suites makes them even more valuable to professionals in the sector.
However, Avid is both expensive and hard to learn to its full potential, and it potentially requires some good support from the producer, which is also expensive. For these reasons, beginners and amateurs usually don't take it into consideration, and even independent professionals working on smaller projects often choose different options.
Adobe Premiere Pro
Designed for mass-consumption rather than top-tier professionals, Premiere offers a very comprehensive editing suite, with virtually every tool you might need. The ones that are not in the program itself can be easily completed using one of its sister software packages under the Adobe Creative Cloud umbrella: After Effects and Photoshop for VFX, Illustrator for Animation, Audition for sound design. Completeness of features and relative ease of use are the main two pros of this software.
However, some find it a bit "buggy" and it can be unstable in terms of memory management, making it more suited to smaller projects such as music videos, commercials, and promos than a feature film.
It is a very common choice for beginners who want to get started by learning the basics of editing, with small personal projects, possibly proceeding to more professional solutions such as Avid.
Final Cut Pro X
Although this product is much more popular among amateurs and prosumers, some independent studios working on short projects still choose it for its ease of use and intuitiveness. A smooth interface and functions such as Snap Clips, Retime, and Multicam Clips make some complicated operations seamless, although it doesn't match the completeness of Premiere or Avid.
If you are an absolute beginner using a Mac, you are on a tiny budget, or you need to do basic editing in a very short time, Final Cut is a suitable choice. Many professionals also use it during their learning stage, with the workflow being pretty similar to Avid, making the switch smoother.
The downside with Final Cut is that most functions cannot be personalised and developed at the same level as its competitors, it supports a more limited set of formats for import and export, and Apple's own version of After Effects – Motion – is just not as good.