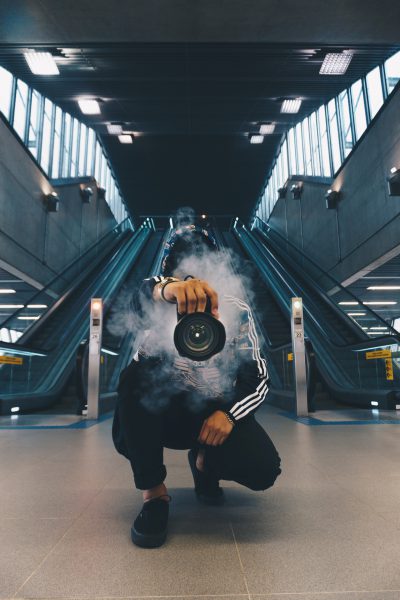 What is a Director of Photography?
At the top of the Camera Department, the Director of Photography (or DoP) is in charge of giving the film its own visual style and identity, coherently with the Director's creative vision.
The DoP is responsible for coordinating the camera crew, including Camera Assistants and Trainees, as well as the Gaffer, who takes care of the lighting, in order to respect their idea of the visual theme of the production.
At the early stages of production, the DoP reads the script together with the Director and agrees on how to represent it visually. Then, during rehearsals, they take care of locking camera movements, focus and framing, along with setting up the lighting for every scene.
During shootings, the DoP is the first on set, together with the camera crew, to prepare equipment and gear for the shots. After shots are wrapped, they can spend up to three weeks together with the Colourist to supervise the digital grading of the shots.
On smaller productions, the DoP may be required to operate the camera as well.

Key Skills
The DoP's skills are mainly based on experience. In fact, thorough and up-to-date expertise of camera equipment, films, lenses, lighting and filming techniques are a strict requirement.
Additionally, since the job of the DoP is to adapt a script to a visual product that complies with the Director's vision, flexibility, quick thinking and creativity are key.
Moreover, the DoP is the head of their own department, so they must possess good leadership, management and teamwork skills, together with an eye for detail, an organised mind-set and a methodical attitude to work.
Education & Training
Although not required, a degree or higher education course in Photography or Filmmaking is advisable. Moreover, while you don't need any electrical qualification, basic knowledge of how lighting equipment works will be fundamental to the job.
Where Can It Take You?
Despite being already a senior role, very rewarding and well paid on big productions, some DoPs start directing their own films at a certain stage of their career.
How To Get To Work as a Director of Photography
Starting as a Camera Trainee, you will need to work your way up the department, gaining extensive technical and creative experience before you can consider working as a DoP. Additional work experience as a Photographer can also provide you with good framing and composition skills.
Become a Director of Photography Today
If you are ready for the next step in your career, why not take a look at the latest DoP vacancies on our jobs board? You can view our latest vacancies here.