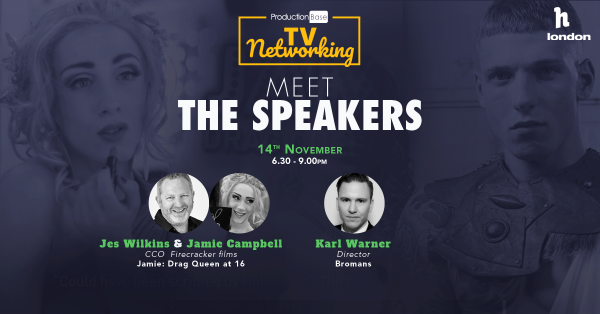 With just over a week to go until our latest TV Networking event at The Hospital Club, we profile our latest group of top industry speakers, who'll take us behind the scenes of their hit shows.
Karl Warner
Our first speaker for the November edition, taking place on Tuesday 14th, is Electric Ray Founder, Karl Warner, revealing the secrets behind this autumn's latest high-concept reality show, Bromans.
Karl is now running Electric Ray, his own production company and home to E4's Carjackers and BBC's Prized Apart. Before launching the company he was a Commissioning Editor at the BBC, where he was involved in the development of hit shows including Strictly Come Dancing.
He also held senior roles at Endemol, where his credits included Big Brother and Soccer Aid, as well as a number of other independent production companies.
Karl is credited on a range of other shows, such as Michael McIntyre's Comedy Roadshow, Russell Howard's Good News, Junior Doctors, Back Chat with Jack Whitehall, Live at the Apollo and The Undercover Princes, winning him numerous awards and breaking ratings records in a variety of genres along the way.
Bromans
Promising to "fill the Love Island-shaped gap in your life", Bromans, aired on Thursdays on ITV2, aimed to be the latest hit reality show to take the nation by storm.
Set in a fictional ancient Rome, the show features eight couples competing in challenges (themed accordingly to the setting), with the aim of putting to test not only their physical and mental skills, but also the strength of their relationship.
Jes Wilkins & Jamie Campbell
Our second speaker on the night will be Firecracker's CCO Jes Wilkins, discussing his BBC Three documentary Jamie: Drag Queen at Sixteen. He'll be joined on stage by the subject of the film, Jamie Campbell.
Jes oversaw the production of BAFTA-nominated Channel 4 doc, Big Fat Gipsy Weddings, which at the time was the highest-rating documentary series in the channel's history. His credits also include Secret Life of The Human Pups and Born In The Wrong Body, making him a pioneer of a controversial approach to TV, aimed at diversity and inclusion.
Jamie: Drag Queen at Sixteen
Released in 2011, the documentary follows the story of Jamie Campbell. The teenager, born in a small village in County Durham, had come out as gay at the age of 14 and two years later, when the show was shot, he chases his dream to become a drag queen.
After being well received by both audiences and critics, the documentary has been adapted to a West End musical, which goes by the title Everybody's Talking About Jamie. Jamie Campbell himself will be speaking at the event, telling the story of his path through these productions.
For more details of this event, including booking information, please head over to our Events pages.