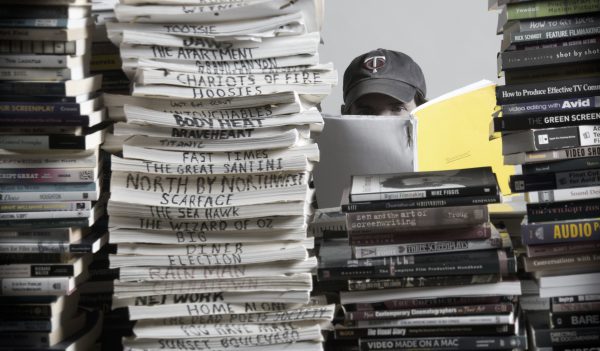 What is a Screenwriter?
Every film or TV show needs a script, not only for the actors to read and memorise their lines, but for the whole production to have a reference and a complete picture of the story which is being represented. It's the Screenwriter's job to develop the story and write the script.
What is the Job?
Screenwriters usually work freelance, especially for films. In doing so, they are mostly free to choose their own working pace in terms of hours, as long as they attend meetings with producers and agents.
Screenwriters first have to come up with an idea or a theme for the script, developing a rough plot. Then, with the aid of some background research, they develop the characters and the story, giving it a dramatic structure and making it believable and interesting.
Especially at an initial stage, once they finish working on a script, Screenwriters need to pitch their work to producers or agents, in order to "sell" their idea and see their project go into production, after making the necessary changes following the instructions of the producer.
Once a screenwriter gains enough popularity, they may be commissioned directly by producers to work on specific projects.

Key Skills
Obviously, screenwriters must possess excellent writing abilities and be able to communicate complex scenarios and events through words.
Knowledge and understanding of storytelling techniques, narrative and dramatic structures are also a requirement.
In order to develop characters, a good understanding of psychology and the capacity to empathise with different personalities are doubtlessly useful skills.
Often, being freelance, screenwriters must be dedicated enough to carry on their work within a short enough time to stay productive and be able to work within deadlines once they reach a deal with a Producer. They have to be open to criticism and feedback and be willing to make changes if asked by their Agent or Producer.
It is useful to have a clear view of the audience's tastes and preferences, as commercially valuable scripts obviously have more chance of being bought by producers.
How To Get Work As a Screenwriter
Being mostly a freelance job, the Screenwriter's equivalent of being hired involves selling your script to a Producer – in order to do so, you obviously need to write the script first. Once you have a finished version of it, you need to start pitching it to Agents or Producers, or you can enter screenwriting competitions which are a good way of being noticed by production companies.
As in many freelance jobs, networking and connections play a crucial role. Therefore, a professional background in the industry will give you an advantage by allowing you to meet with actual producers and other professionals.
Education & Training
There is no formal training or qualifications required to be a Screenwriter. However, there are courses and MAs that might help you develop the skills you need such as "Creative Writing" and "Scriptwriting".
A background or degree in subjects such as journalism or copywriting can also help you to develop the necessary writing skills.
Where Can It Take You?
Career progression for Screenwriters vary largely depends on the success of their work. Some Screenwriters will combine writing with other work – editing or teaching for example – particularly whilst they establish themselves.
However, if you produce successful work you will be likely to be commissioned for scripts in the future and gradually progress towards higher budget productions.
Become a Screenwriter today
If you are ready for the next step in your career, why not take a look at the latest Screenwriter vacancies on our jobs board? You can view our latest vacancies here.