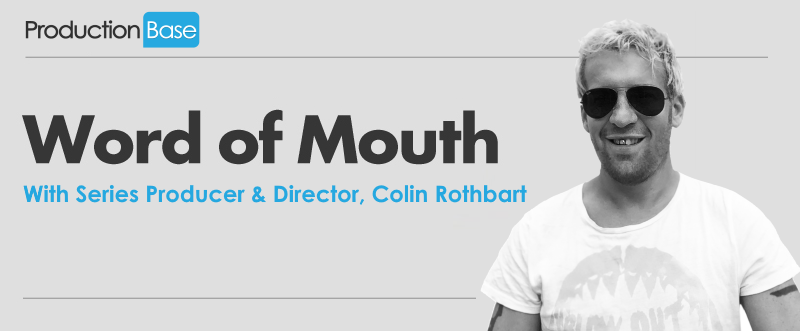 In this edition of Word of Mouth, we talk to Grierson-shortlisted Series Producer & Series Director, Colin Rothbart, about his career highlights, including a six-year self-funded documentary project, enjoying the locations on Holiday, and catching slugs for The Big Breakfast.
How did you first become a filmmaker, and what would you say was your first big break?
I definitely took the long hard route, as I didn't know anyone in the industry. From the age of 16, I'd done unpaid work experience at The Sun and Time Out in my school holidays and then luckily got a job as a hospitality runner at TV-am, making tea for everyone from Kylie to Thatcher. This would have been great if it had lasted – but TV-am lost their franchise six months later! So I suppose my first big break after studying at uni and doing a Journalism postgraduate degree was as a Runner again on The Big Breakfast.
You were shortlisted for a Grierson Award for your self-funded documentary, Dressed As A Girl. How did that project come about?
That was something I did in my spare time over six years. I had many friends on the alternative arts scene in East London, so one of them said we should be documenting this for posterity – so I did! But with no funding and a full-time job, it took a while to come to fruition. In the end, the fact it was filmed over six years meant the storylines had much more substance. It's played around the world in film festivals and is currently on Netflix.
You're hugely experienced across a range of genres, including observational docs, music, reality & factual entertainment – which genre is your favourite to work on and why?
As I love travelling as a hobby anyway, I'd have to say that travel shows/presenter polemics are my favourite genre. Throw in a bit of history too and I'm in my element.
What would you say is the biggest challenge you've had to face during your career?
Probably ever decreasing budgets, but that's true across the board. Gone are the days when you had crews for everything. One of my earliest challenges was having to find slugs for someone to eat live on The Big Breakfast. After hours of waiting with a saucer of beer on the house lawn, I found some snails and called the Producer, who suggested if I smashed the shells off, they'd look the part…not my proudest moment! Also, all the nightclub filming I've done in the past where you have to try and keep the camera steady while punters are trying to pull yer trousers down!
You've worked on many of the UK's most popular programmes. Which would you say has been favourite to work on?
I'd probably say the BBC's Holiday ten years ago. The budgets were great, the recces were amazing and you had plenty of time to shoot too for a change. We went to some fascinating locations and I was a big fan of Victoria Wood's Margery & Joan sketches, and Judith Chalmers! Other than that, I also loved Weekend Escapes with Warwick Davis, Alan Cumming's Urban Secrets, working with Michael Portillo, The Apprentice (despite the long shoots) and working with Mary Portas.
One of your most recent projects was BBC Four / BBC World's Art Lover's Guide, which was filmed in locations around the world. Where have you most enjoyed working and are there any locations that presented particular challenges?
It's always nice working where the sun's shining. When it's not, it can be a nightmare. We were in the Maldives once for Extreme Fishing – idyllic at any time of year, apart from monsoon season! We didn't expect that on the one day we were filming, it would be feeding/mating season for hundreds of manta rays, so we hadn't bothered with the expense of booking an underwater crew. Sod's law – that was the when they all flocked around our boat. So in the end, it was just me, Robson and a cheap handycam in a plastic bag while waves and whale sharks sprayed all around us! Another challenge was flitting around Tenerife, trying to keep up with the OAPs Behaving Badly causing havoc on their mobility scooters…
What advice would you give to people looking to start a career in filmmaking?
Do it, but don't always expect an easy ride. What other job could you be filming teenagers throwing up in Ayia Napa one minute and interviewing politicians, hit men and pop stars the next? You meet people you'd never have met if it wasn't for your work, which really broadens your horizons and makes you a true, informed global citizen.
Are there any types of programme you'd like to work on in the future, and do you have any particular ideas that you'd love to get made one day?
I love exploring subcultures, which I did a lot of early on in my career. It would be great to do that again, though mainstream TV is often more about celebs these days. I tend to mainly watch documentaries in my spare time, when I'm not watching something on Netflix or another drama series. I'd also love to work with Louis Theroux or Charlie Brooker – and do a travelogue with Joanna Lumley or Stephen Fry. I think working in telly can be extremely rewarding, often challenging, and has the chance to inform and influence society, usually for the better – as I remember well from doing the UK's first gay Wife Swap. There are very few jobs that other people are interested in hearing about on the bus or at dinner parties and you never know what exciting project could be around the corner.
Colin Rothbart is a Series Producer & Series Director, and a ProductionBase member. You can get in touch with him via his PB Profile. If you're a PB member and you'd like to be featured in a future Q&A, let us know!