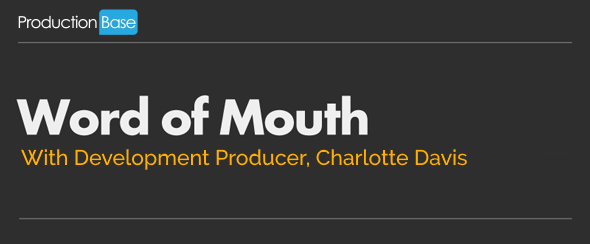 In this edition of Word of Mouth we talk to Development Producer, Charlotte Davis, about her career in TV, eating doughnuts with Chicago cops, and easing Jimmy Nesbitt into a wetsuit!
What made you want to pursue a career in production, and what was your first job in TV?
I graduated from Glasgow University with an MA in Film, TV and Theatre studies, but I never wanted to get into telly really. I wanted to be a football journalist, but after a few months doing just that at the Daily Record, I realised just how tough that was. I got very confused. I was RUBBISH!
So, instead, I lucked out. I got a place on the Carlton production training scheme, and spent a year making a magazine programme called Shift for the (now defunct) Night Network. Heady, awesome, brilliant times. Alex Menzies (now a commissioning editor at C4), Anne Mensah (Head of Drama, Sky) and Asif Kapadia (ruddy well Oscar winner), were all knocking around the Carlton CPU at the same time. None of them return my calls now though (ha ha ha!).
In your work as a series producer you shot in the UK, USA and Europe. Were there any difficulties adapting to the different locations?
I always found it easier to film in the US. I have produced a few crime based series and, apart from anything else, the police are much more helpful over there. Archive is more accessible. I once spent an 'interesting' afternoon in Chicago going through evidence boxes from John Wayne Gacy's trial (the 'killer clown'). The police there were great. Plus, I got coffee. And a donut. Just like in the films.
You've worked on many different genres: from observational documentary and constructed reality formats, to crime series and factual entertainment. Which genres do you most enjoy working on?
Variety is the spice of life, I like it all. A particular soft spot for the old days of the paranormal genre, what's not to love? I DON'T enjoy the need for 'swagger' over substance, but I hope those times are changing as television making becomes more accountable.
How did you make the step up to Series Producer?
I think it was a natural step as it is for a lot of people. I developed a series that got commissioned, I was asked to series produce it, it went to three series in UK and abroad. The rest, as they say…
I enjoy both the development and the producing, and I hope the latter makes me better at the former.
Which of your productions was the most challenging to work on and why?
I once series produced a structured observational doc series based at an extras agency where we were supposed to follow them onto the set – that was tricky as no one seemed to get cast in anything (Harry Hill liked it though!). A series on spree killings was emotionally hard, for obvious reasons.
And easing Jimmy Nesbitt into a wet suit on a fishing boat off the Irish coast, well, tough times, tough times…
You say you watch a lot of television; what kind of television do you watch? Do you use it as an inspiration for your work?
For years, at New Year, I would make it my resolution to 'watch less telly'. I was going to read more, get to the theatre for things other than 'Peppa Pig's Big Splash'. But you know what? I love watching television, so I have decided to embrace that. I have the viewing habits of a teenager some days: I love Catfish, I love Love Island. Other times I enjoy features. I love Bear Grylls: The Island, Making A Murderer. First Dates is brilliant. BBC3's Asian Provocateur….
Do you have any programme ideas in the back of your mind that you'd like to develop one day?
I've got a list, a long list! I keep adding to it. They are just top line ideas but, like a mother, I think of all of my idea babies are beautiful and I can't believe they haven't been made yet! One day, one day…