Sharon Boyd looks at the first steps to take when graduating from a Media degree: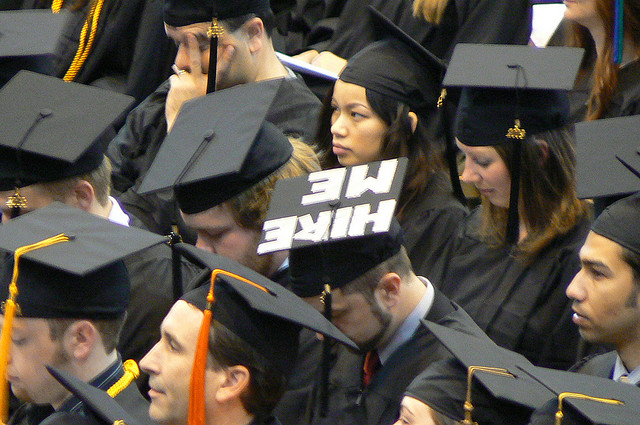 So you've spent three years studying the likes of Walter Benjamin, Theodor Adorno and W. J. T. Mitchell alongside writing scripts, shooting on a Sony HDW750P or a Canon 7D, colour correcting in Final Cut Pro or Avid, and learning to analyse and think critically about the media world. Now what? For some of you it might be a case of having a night on the piss and sitting on your arse for the remainder of the summer, maybe applying to the odd job. For others, perhaps you would rather not waste your £27,000 costing 2:1 degree by living off dole money and continuing the typical student life of sleeping all-day and instead actually start making yourself as employable as possible by getting a foot in the door and beginning your career in the media industry.
Graduates of media degrees, on occasion, tend to think they're immediately going to be an award winning director or producer or editor, which is completely delusional. This is not to say that having ambition is a bad thing, but leaving university with a superior opinion of yourself is not a good way to get ahead. Employers won't take you seriously if you have an attitude that you are above the work of going out on errands or making tea or coffee. Graduates should expect to start at the bottom working for pennies, but rather than grumbling about it they should recognise it as a valuable experience in which learning can still take place. You need to knuckle down and work hard in order to prove yourself to those who are higher up in the industry.
Hopefully, your time at university will have given you a good footing for starting your career as a graduate. Most universities will have provided career advice and guidance, and this is something worth paying attention to before you complete your degree. If you have paid attention to the career advice given then you probably will have already considered which roles you would like to be employed in. If you're a little unsure still, it might help to focus about the ideal type of environment you'd want to work in. Deciding your desired location of work and the distance you are willing to travel will also help to narrow your search further.
Once you have considered these questions you should formulate your CV and covering letter. Your CV should be comprehensive but concise; include your contact details, it should be easily readable, split into subdivisions, and the layout and formatting ought to remain consistent throughout. Avoid having an excessive amount of text or white space. Your experience and qualifications should be recorded chronologically with the most recent showing first. Include any skills you have gained from a previous employment or work experience, together with the job duties. At the bottom there should be a section with details of your two referees and their contact details.
The covering letter is your opportunity to expand on your CV and express to your potential employer why you are the most suitable candidate for the job. It should be a succinct letter personalised to the particular position you have applied to, illustrating how your skills and experience match the job requirements. Avoid just echoing what's on your CV and instead develop on what you've said.
Having got your CV and covering letter ready, the next stage is to investigate places that you would be interested in applying to. It is essential to read application forms vigilantly and offer direct responses that emphasise why you are the most suitable applicant. You should always check your application for any spelling or grammar oversights, therefore its worthwhile getting someone else to proof-read it for you. Rather than limiting yourself by just responding to advertised jobs you could also send applications to places that you are interested in working for. If the company hasn't stated a date by which they will get back to you, there is no harm done in making a follow-up phone call after a week or so. This will help make you stand out as professional and as someone who has a genuine interest in the job.
Don't be too concerned if your initial applications are unsuccessful as many positions are oversubscribed. So maybe you could broaden your search by looking into other areas while remaining persistent in your applications. While you are researching and applying to jobs, you can continue to practice your skills by working on personal projects and staying in touch with your university peers and tutors, with the possibility of getting some work out of it.
Continually trying to improve your CV, website, showreel, knowledge and skills is important to do while you are a job seeker. Staying focused, determined and continually trying to stay positive will hopefully pay off with a job in the industry which will be the first step in your media career.