Sharon Boyd looks at how to use your university connections to improve your employability whilst you study: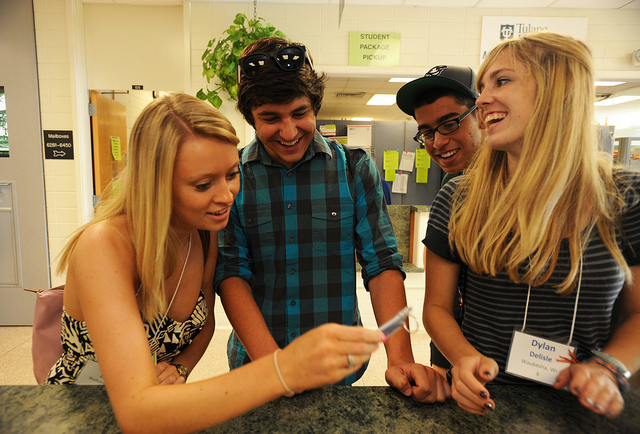 The general impression of undergraduates isn't always a favourable one. Frequently when thinking of student life we conjure up images of intoxicated individuals stealing traffic cones, and spending the majority of the sunlight hours sleeping off hangovers, and those regretful decisions of choosing to have garlic mayo on their kebab the night before. But alongside the parties, many of these students still manage to be academically successful by having a good balance between their social life and studies, which is key for any student wanting to do well but have fun at the same time.
Many universities have their own newspaper, written by students for students. You may not get paid and it may take up the time you could be spending on other activities, but you could increase your talents, which may be appropriate to your career plans. For instance, at The University of Westminster, the Students Union have set up 'Smoke Media', which comprises TV, radio and print, and through these media platforms students can undertake various different roles. Smoke Media aims to inform and entertain, as well as enable students to practice their skills and produce a showcase of work. Other universities have had similar ideas too. These types of pursuits are invaluable, offering involvement in your subject outside of compulsory teaching, which in turn is going to look good to potential employers. Some universities might not have their own magazine or YouTube channel, but perhaps you could establish one yourself? It may seem like hard work, but surely it's worth it when it comes to improving your CV and being able to carry out your practice alongside your studies.
Of course, it's useful to attend any lectures, seminars, workshops or talks from industry professionals that are held at your university. Maybe you have an interest in editing and there's a workshop running on how to use green screens with Final Cut Pro. It may be outside of your standard uni hours, but it's a free workshop in which you can gain insights, which will of course be beneficial to your particular interests. This doesn't mean to say you ought to attend every single talk or workshop offered, but choosing to attend events of interest to you means you can broaden your knowledge on things worthwhile to your career.
If your attentions lie in the production side of the media, using the equipment and facilities your university has is an effective way to work on personal projects. Hiring out expensive cameras free of charge is something media students need to take advantage of. Maybe you and your peers want to make short films for YouTube, or maybe you've put an ad up on Gumtree to film music videos for local bands. A portfolio that contains a mixture of projects produced both in and outside of university is likely to enhance your chances of putting together an impressive showcase of work.
Students also regularly put posters up around campus, sometimes seeking crew members for short films, or maybe advertising an exhibition they are presenting. It's helpful to take note of what other students are doing – you could be inspired by their projects, or even get involved. Understanding the level of talent amongst other students also lets you assess what your competition is like. Maybe your University has a gallery space in which students can exhibit work, or maybe your university even has its own student film festival. Participating in such activities means other students and lecturers can view your work, which puts your name out there. In addition to this, attending graduation shows is a fantastic way to see the best of what students are producing.
University is an excellent network to take advantage of. Rather than making the latest cheap student night your priority, maybe you could put your energy into finding ways to assist your future career. It's easy to let your uni years fly by but if you make a conscious effort to start participating, then you can make the most of it now. You want to enjoy student life but why not determine the best ways to do this alongside your education, bearing in mind that the more you have on your CV, the more you will be considered worthy of being hired in the future.