What is a Third Assistant Director?
The role of 3rd Assistant Director is one of the best ways to start your directing career. As a 3rd AD, you can be involved in a wide range of tasks but the main responsibility is to ensure that the first and second Assistant Directors are supported in every capacity. The most common duty of the 3rd AD is to coordinate the movements and direction of extras and maintain a clear channel of communication between cast and crew.
What is the Job?
3rd Assistant Directors are depended on to ensure that extras arrive and depart correctly during shooting. Their work often primarily concerns preparing, cueing and directing any background action and ensuring that the extras, who are often on set for long periods of time and only used for small periods, are well looked after.
The 3rd AD is also a key communicator with the Production Assistants to ensure that the AD team is supported throughout the shoot. On occasion, the 1st AD may also have to leave the set (even if it's just for a bathroom break) leaving the responsibility to the 3rd AD, so being well informed of the duties and responsibilities of the AD team is always advisable so that deputising for anyone in the department can be taken in your stride. The Third Assistant Director can also expect to be delegated tasks from the Second Assistant Director.
In addition to completing daily progress reports after each shoot day, the 3rd AD will often liaise with the Location Manager so that any extra responsibilities, such as ensuring the premises are left secure after shooting, are carried out as well.

Key Skills
Good communication skills
Personable, friendly and confident
Excellent organisational skills
Flexible and creative approach to problem-solving
The ability to work under pressure
Want to know more? Why not check out this short clip from the BBC Academy on the skills needed to be a Third Assistant Director:
Kit
As most Assistant Directors are supposed to be confident and clear communicators, organised and approachable, one of the most powerful tools in an Assistant Director's toolbox is, in fact, their toolbox. Being prepared for almost every potential situation is a solid way to sell yourself as an AD from the off. Here are a few things that are a must in an AD's kit bag:
Smart phone – it's pretty important to be able to get up to date information on-the-go and if other members of the AD team are looking for weather updates or other relevant information, having quick access to the internet can stand you in good stead.
Stationary – having more stationery than you could possibly ever use is important as you'll have to constantly be noting information throughout the shoot and as is customary, most of the stationery will be borrowed and lent out to other members of the AD team.
Utility Belt – whilst I'm not the biggest advocate of the utility belt mainly due to the sniggers that are inevitably had at your expense, it has been known to be a fairly popular part of the kit bag for an AD (mainly across the pond) and if it's good enough for grips, gaffers and make up artists, why not an AD?
Clothing for all eventualities – If you're working on location in the UK, then it is more than likely that at some stage you could well fall foul of the ever-changing weather conditions. Having interchangeable clothing covers you for every eventuality. For the fashion conscious, dark colours are advisable for practicality so the bright yellow turtle neck will have to stay at home.
Work Boots – put practicality first. The hours are often long on a shoot and the last thing you want to add to a list of aches and pains is the feet you're going to be spending the rest of the week standing on.
Salary and working hours
According to BECTU, the UK's media and entertainment trade union, the recommended hourly rate for a Third Assistant Director is £35.77 per hour when working on feature films with a large budget. This hourly rate does differ depending upon the size of the production and the type of production. For instance, when working on a primetime UK TV drama the hourly rate decreases to £20.12. Further information on these rates is available on the BECTU website.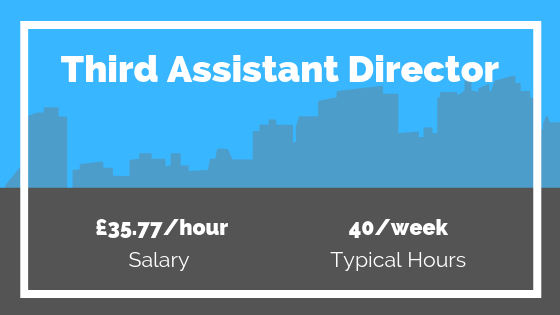 As is the case with the majority of roles within the industry, working hours depend largely upon the stage of the production and time commitments. Often a Third Assistant Director will be required to work longer hours to meet these needs. Further, it is important to remember that filming hours are often long and can be unsociable. At times the production may take you abroad, so a willingness to travel is necessary.
How to get work as a 3rd Assistant Director
Working as a 3rd Assistant Director is predominantly about gaining the experience necessary to orchestrate a team and ensure the smooth running of a shoot alongside the AD team.
There are a wealth of short courses and qualifications that can prepare you for the working environment of a shoot, such as City & Guilds training and Skillset's Screen Academy networks. Additionally, the Met Film School offers a range of directing courses which could help jump-start your career in what is an extremely competitive industry.
Due to this competitiveness, the reality remains that gaining experience will be essential. Normally, working as a Runner is the best route into gaining on-the-job experience and networking to progress into the position. You could also look to gain experience by volunteering at local community productions.
Become a Third Assistant Director today
If you are ready for the next step in your career, why not take a look at the latest Third Assistant Director vacancies on our jobs board? You can view our latest vacancies here.