University degrees in the media sector have become a topic of ridicule amongst many in recent years mainly due to the multitude of courses available to undergraduate students. With tuition fees rising and the diversity of courses on offer showing no signs of subsiding, are undergraduates making the right decision when choosing their courses and if so, are universities justifying an expense which averaged £26,000 amongst 2012 graduates?
Choosing the right course is a difficult decision for any undergraduate and whilst there is a wealth of guidance available from organisations looking to help students make the right decision, often key question go unasked during the application process which have far reaching effects on the graduate market.
Courses incorporating the following subjects available either as a single discipline or a combined degree at UK Universities in 2013/2014:
1082 media courses on offer at 119 universities across the UK.
142 courses in media production on offer at 45 universities.
280 courses in film and television on offer at 41 universities.
28 courses in film & TV production on offer at 21 universities.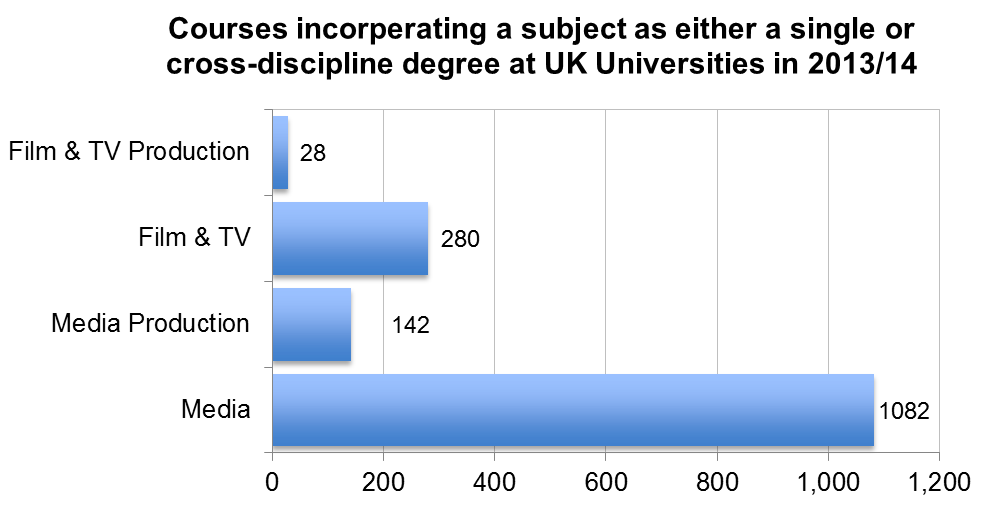 With so many non-specific media courses available, here are five questions we should be asking to ensure universities are doing enough for their media students.
How are courses preparing graduates for changes in the media industry?
As with any industry, media courses need to demonstrate the changes to course structure and syllabus that reflect the changing conditions of the industry their graduates will be entering. With a forward thinking syllabus, graduates are further prepared to face any industry trends that surface in the early years following their graduation.
Is the balance of vocational to theoretical study appropriate to your chosen career path?
Whilst developing a solid theoretical basis for academic study is important, the age old saying 'you can't learn without doing' still rings true, so finding a course that provides a good balance between practical and theory based learning will provide graduates with an alternative to the catch 22 situation so familiar to media undergraduates needing experience to be successful in gaining work placements.
Does the university have established industry contacts available to graduating students?
One way in which universities can quickly justify the high tuition fees and offer true value to their courses is in the industry relationships they can introduce their students into. With established industry relationships comes industry endorsement of the course in turn raising the value and prestige of the degree on your CV.
Are the university lecturers also still active within the industry?
Having lecturers that are still active in the industry offering their insights and expertise is hugely advantageous to undergraduates as whilst their lecturers are still working actively within the industry their methods will be current and relevant to the current industry employment climate.
What are the percentages of graduates in employment in the six months following graduation?
Most universities collect statistics on the employment status of their recent graduates six months after their courses have been completed. These reports give an indication of how well a course prepares students for the employment market, and importantly, how many graduates are still working within the media sector rather than other related industries. When choosing a course, always check these statistics if they are available.
With tuition fees having risen to new heights in recent years, it is important that a university course prepare you comprehensively for the graduate market, providing continuity from academic study to full-time employment. If you can find a university course that provides a clear path into the industry, the tuition fees can become almost insignificant.