What is a Casting Assistant?
Being an industry based on connections and experience, roles such as Casting Assistant can be a very good way in, offering a good chance of career progression without excessive responsibilities. As such, the role of the Casting Assistant is considered an entry-level role. This role is considered the perfect route to becoming a Casting Director.
What is the Job?
The Casting Assistant's job consists of helping Casting Associates and the Casting Director throughout the development casting process. First, they help to put together a list of possible candidates for a role. Usually, a Casting Assistant will create an electronic database to store all of this information. They will keep records of each performer to include: headshots, resumes, agent information and such like. After perusing the database the Casting Assistant will then proceed to contact the actors' agents to check availability.
The Casting Assistant may then also be responsible for scheduling auditions and appointments, coordinating with actors' agents and the diaries of key production staff. During casting sessions, they provide basic running duties, such as answering phone calls, keeping in touch through e-mails, welcoming guests and actors and setting up the camera for screen tests. Casting Assistants are also responsible for labeling all the best takes from auditions correctly and sending them to Directors or Producers.

Key Skills
Deep knowledge of cinema, theatre, actors and performances is mandatory for anyone who wants to get involved in casting. The basics of operating a camera and filming short scenes are also useful at the auditions stage. As with any assistant role, it requires meticulousness and precision, organisational skills and an eye for detail.
Salary and working hours
According to payscale, a Casting Assistant can earn between £16,578- £35,789 depending on the type and location of the production. Of course, salary is also impacted by the amount of experience you have working in this role, or related roles in the industry. As with any entry-level role you should be willing to put in the hours, to learn and develop your skills, enthusiasm and passion are key in this industry.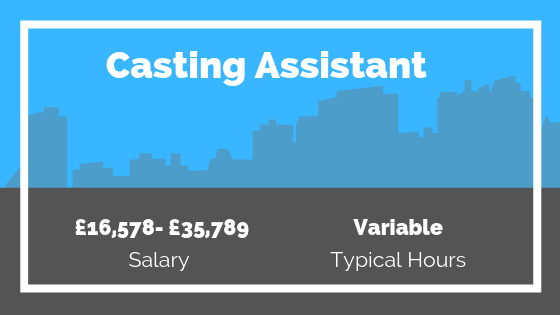 How to become a Casting Assistant
Being an entry-level position, it is fairly easy to start gaining experience as an Assistant in a Talent Agency, developing a taste for good acting and learning how to work with actors. Being up-to-date with emerging actors and recent performances is key to start perfecting an eye for spotting talent, which is what makes a good Casting Assistant stand out. If you are lacking experience, you could look to volunteer at a local community production.
There is no formal qualification needed, but most Casting Assistants hold a degree in Arts, English, Film, Theatre, Communication or Media. An active interest in film and acting is required, while any previous experience in the field is clearly beneficial. There are also qualifications you could undertake to give you that first step on the all-important career ladder. For instance, the Metfilm school offers plenty of short courses and undergraduate degrees.
Where Can It Take You?
A Casting Assistant Role is usually the first step in the Casting sector, with enough talent and experience it is possible to earn a promotion to Casting Associate and, eventually, Casting Director. However, career progression is typically slow and can take many years.
Become a Casting Assistant today
If you are ready for the next step in your career, why not take a look at the latest Casting Assistant vacancies on our jobs board? You can view our latest vacancies here.