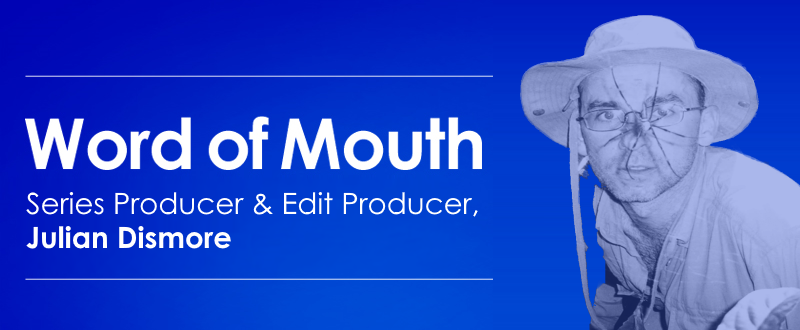 In our latest Word of Mouth, we catch up with Series Producer and Edit Producer, Julian Dismore, on his career to date, including falling off a volcano, being biten by snakes, and going undercover.
How did you get your big break, and what was your first job in TV?
After graduating from Uni, I went into the careers office and naively asked where the 'TV jobs file' was. Once the career officer had stopped laughing, she told me that Yorkshire TV had called that very morning looking for a Researcher for the ITV Science Department.
I applied for the job and was invited for interview, but noted the address down wrong! Consequently, I turned up late and thinking I'd blown it I joked my way through the entire interview. The interviewer found me funny and pretty much on the spot he offered me the job in front of the other 84 candidates for the post!
Little did I realise I'd started on a journey that would encompass being a paedophile in the Philippines, falling off a volcano in Indonesia and being bitten by a highly venomous snake in India (more about those life threatening episodes later…)
How did you progress from there to become a Series Producer?
I was lucky enough to find two mentors early in my career willing to give me a chance. The Head of Science at YTV, Duncan Dallas, had me producing prime time ITV network shows within 18 months of starting in television. And then the series producer of the ITV hospital ob doc series, Jimmy's, Irene Cockroft, suggested I series produce Jimmy's series 10 at the tender age of 29. I'll always be grateful for the opportunities Duncan and Irene gave me – and my best advice for youngsters coming into TV is to find a mentor or two if you can!
What would you say are the key skills required to be a successful Series Producer?
The dream scenario for many head honchos in the TV industry is a series that…
1. Is produced quickly (ie. keeps to a very tight schedule and is delivered on time)
2. Is made cost effectively (ie doesn't go over a sometimes very very tight budget!)
3. Has high production values (ie is critically well received and gets good viewing figures).
Achieving two of those three aims is usually possible – but to achieve all three you need a diligent, hard working team all pulling in the same direction. So in my opinion the key skill required to be a successful Series Producer is the ability to recruit team members who are all as determined as you are to make the very best programmes possible, on time and on budget.
Many of the projects you've produced involve working with contributors. What do you think is the key to the contributor/producer relationship?
I think the key to a good contributor/producer relationship is that contributors enjoy the filming process. If you can make potential contributors laugh soon after meeting them for the first time, you're off to a good start. If they're having fun when you or your team are filming them then their eyes won't roll when you ask for more shooting time. If the subject matter is serious and humour isn't appropriate, then contributors need to believe that their participation in the programme is worthwhile.
Interestingly, for the first time in my life, I am now myself a contributor, along with other members of my family. CBBC have commissioned a documentary for their My Life strand about my inspirational 14 year old son, Danny, who has special needs and was paralysed from the neck down following surgery on his spine. Being on the other side of the camera has given me an insight into how exhausting it is being filmed – and how much we ask of people who allow us into their lives.
Luckily the STV team filming us, Producer/Director, David Metcalf, Assistant Producer, Chloe Hulme, and Exec Producer, Mick McAvoy, are delightful company! And me, my wife Debbie and our sons Adam, Sam and of course Danny are enjoying the filming experience.
What's been the most challenging project you've worked on, and why?
I think every show has its challenges, but there are a few that really stick out – the life endangering ones! A few years back I went undercover as a paedophile in the Philippines to expose sex tourists for an ITV documentary. It was quite shocking to discover on my first day out there that the previous journalist who'd investigated local brothels selling children for sex in that part of the Philippines had had his head cut off by the local mayor. I had to stay 'in role' as a paedophile sex tourist for over a month – which was mentally exhausting and extremely stressful, especially when a prostitute asked to borrow the 'pen' in my jacket pocket (the pen was in fact my microphone!).
Filming Benefits By The Sea: Jaywick was also dangerous because some locals really didn't want us to be there, despite my determination to make the series an affectionate portrayal of inspirational people doing their best in tough circumstances. One local wasn't convinced and threatened to blow my head off and burn me alive. I didn't think it wise to point out he'd got it the wrong way round!
On another ITV show, Crash Scene Investigators, about police road traffic collision investigators, my team and I were on call 24 hours a day for months on end as we waited for the next fatal or near fatal crash to happen within 8 hours of our base in Exeter. It was draining not being able to relax any time of the day or night in case the phone rang and we had to head off to the crash scene.
Another challenge that sticks in my mind is the time I flew to LA to record a voice over with a top Hollywood actor for a co-production called Stunt School which I was series producing for Five and Discovery US. The show was about six stunt rookies in Australia. Within seconds of the voiceover record starting, I realised the A list actor couldn't pronounce the letter S! Luckily a colleague in the YTV docs department, Roger Finnigan, had a fantastic voice and did the commentary for the Five version of the series. However, Discovery got stuck with a series called 'Thtunt Thcool'!
As well as your work as a Series Producer, you have extensive credits as an Edit Producer. Which role do you prefer?
I enjoy managing teams and whenever possible helping production team members move up to the next level. I also like moulding a series with execs and commissioners – especially new shows. Establishing house styles, choosing graphics, titles, music etc is great fun, so being a Series Producer has many attractions.
However, I also like having a good laugh with Editors as an Edit Producer, and crafting individual shows. I've played a lot of cricket in my time and I enjoy the challenge of being captain, but I also like being just another member of the team. Besides, on many of the 30+ shows I've SP-ed, I've also edit produced some of the programmes, so the two roles aren't necessarily mutually exclusive!
You're work has primarily been across factual and factual entertainment – are there any other genres you'd like to try your hand at?
I sometimes wonder what it would be like to direct drama, but my fundamental reason for going into TV was to meet real people who had amazing true stories to tell – and ideally go to incredible places to film them!
I've been lucky enough to have some fantastic life experiences as a factual Producer – falling off the volcano Krakatoa in Indonesia, being bitten by a king cobra in a snake-charming village in India and running out of boat fuel on a crocodile-infested lagoon in South Africa to name just three. It's been a privilege to film in wonderful countries with someone else paying the bills!
Is there any production you wish you had worked on?
I've already had my dream job – producing documentaries and web videos for cricket teams in the Indian Premier League. I love India, I love cricket and I love partying – so those gigs ticked all the boxes!
But seriously, a friend of mine, Patrick Collerton, produced The Boy Whose Skin Fell Off, a superb Channel 4 documentary about a young man who suffered from Dystrophic Epidermolysis Bullosa. It was an imaginatively directed and incredibly moving film – and it transformed the way many programme makers thought documentary stories could be told.
I would love to be part of something like that which creates an entirely new genre. I remember Steve Anderson, who was at Granada at the time, coming to see us at YTV in Leeds when we were making a consumer show called We Can Work It Out and saying how exciting it is to be in at the start of something – creating a new series from scratch.
I've been very lucky to have been involved in so many interesting shows, but I do have a touch of envy for the original production team members of series like I'm A Celebrity, Strictly Come Dancing or Great British Bake Off. I wonder if they realised they were about to have an earth shattering hit on their hands!
How do you think the industry has changed since you started out?
When I first started out in TV, people had strictly defined roles. In factual departments there were Researchers, Producers, Directors, Editors and Camera Operators, all sticking solely to their disciplines. These days it's all about multiskilling. I'm fortunate that I can shoot on several cameras and edit on Avid – and that has helped me on numerous occasions.
When I first started out, you'd need several people and a lot of big equipment to film, edit and broadcast content. Thanks to technological advances, one person can now do all that with a small camera and a laptop in a hotel room.
Being able to edit on Avid has helped me keep many of my series on schedule – when more editing needs to be done and the Editor understandably wants to go home. It's also great fun cutting your own pieces.
You've covered so much in your career to date, but is there anything you would like to get your teeth into going forward?
I'm fortunate enough to have been offered work in a wide variety of genres; ob docs, factual entertainment, science, wildlife, long form documentary, history, flashing blue light series, sports videos and investigative current affairs to name but a few.
I've been asked to film in over 30 countries (often with very little notice) and I've met and worked with some truly inspiring people. One thing I've learned is that the 'TV gods' move in mysterious ways, and sometimes you have no idea what you'll be doing next. That's one of the reasons I went into TV, the unpredictability of it. As long as I keep getting work, I'll be happy – I get bored very easily!
Julian is about to series produce his fourth season of the BBC1 show 'Caught Red Handed' with Dom Littlewood.
Julian Dismore is a Series Producer & Edit Producer, and a ProductionBase member. If you'd like to be featured in a future Q&A, let us know!