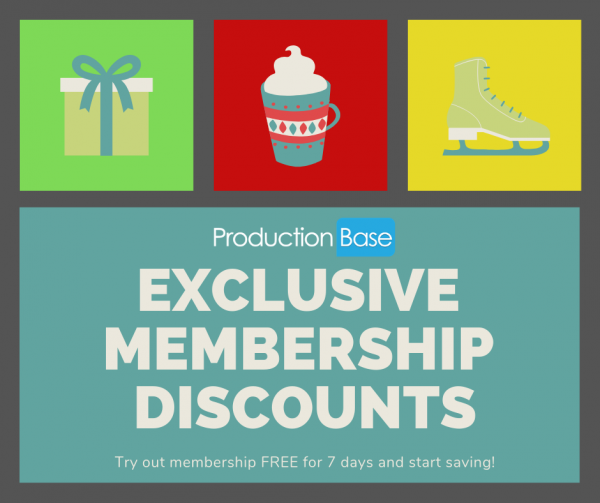 Here at ProductionBase we like to go the extra mile for our members. Members of our community receive exclusive discounts on a range of industry products and services. Check out our latest discounts below.
Crunch
Crunch offer accounting services for freelancers, making managing your work finances quick and easy. Packages include access to simple online accounting software, and advice from expert accountants. You can find out more about Crunch here.
The offer: 10% off accountancy packages
CMME
CMME mortgage brokers have helped thousands of Contractors, Freelancers, Self-Employed Professionals and Business Owners get the mortgage they deserve with specialist advice. You can find out more about CMME here.
The offer: £100 off standard brokerage fee
Fat Lama
Fat Lama is the peer-to-peer online rental marketplace for all of your camera hire needs. Borrow what you need. Lend what you don't. You can find out more about Fat Lama here.
The offer: £25 credit towards your first rental
ProMotion Hire
ProMotion offer kit hire and training from their centres in London, Manchester and Brighton, with a wide range of HD and 4K kit available. You can find out more about ProMotion Hire here.
The offer: 10% off kit hire and training
BASCA
The British Academy of Songwriters, Composers and Authors (BASCA) is the voice for music writers and composers. You can find out more about BASCA here.
The offer: 25% off annual membership
Hungry Eye Magazine
Hungry Eye is the peer to peer title for the filmmaking and photography community.
The offer: 30% off subscriptions
We're always looking to grow the range of discounts available to members, so if there's another product or service you'd like to see featured, get in touch with the team!
Join the ProductionBase Community Today
Sign up today and trial out membership free of charge for 7 days. You'll get instant access to the latest production jobs, increased exposure, and many other benefits. Click here to find out more!