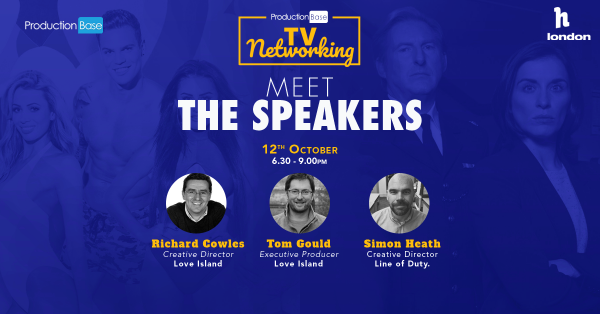 Our next TV Networking event is fast approaching, and for the October edition, taking place on the 12th at The Hospital Club, we're delighted to be hosting two top speakers from ITV Studios, who were behind one of this year's most successful reality series: ITV2's smash-hit summer sensation, Love Island.
Richard Cowles and Tom Gould
ITV Creative Director Richard Cowles started his career in documentaries, before becoming a Producer/Director and then Series Producer on a range of award-winning factual entertainment series, including Ibiza Uncovered and Airline.
In 2002 he co-created and produced the global hit format, I'm a Celebrity… Get me out of here!. The survival reality show has topped more than 10 million viewers in most of the 16 series aired to date. The final episodes of the 2nd and 3rd series were viewed by more than half the total TV audience at the time.
Cowles also oversaw the 2012 relaunch of Ant & Dec's Saturday Night Takeaway, and in 2015 he took over the new incarnation of Love Island, which originally aired in 2005-6.
Tom Gould is an Executive Producer at ITV Studios Entertainment. Love Island is his third collaboration with Cowles, after Hell's Kitchen and I'm a Celebrity. His other credits include Dancing on Ice, Come Dine With Me, The Pride of Britain Awards, Surprise Surprise and Popstar to Operastar.
Love Island
The original version of this dating show format, broadcast on ITV, involved twelve single celebrities spending five weeks on an island in Fiji.
For the relaunch in 2015 the show was rejigged, with participants instead chosen from among members of the public, with the aim of making the show more relatable and engaging for viewers. The participants are isolated in a villa located in Mallorca, having to couple up with another contestant, with the viewers voting for their favourite couple. Most episode saw islanders eliminated by public vote or because they were left without anyone to partner
The third season, aired over the course of 8 weeks this summer, was as ratings sensation for ITV 2, with an average viewership of 2.5 million across 43 episodes. The show went viral on social media, with tweets and comments from a wide range of celebrities, and a brief appearance from no less than GQ's Solo Artist of the Year, British rapper Stormzy.
Richard and Tom will take us behind the scenes of their hit show at next week's ProductionBase TV Networking event at The Hospital Club. For information, and to book your free place, click here.