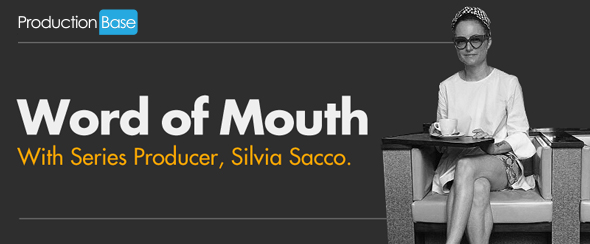 In this edition of Word of Mouth we talk to Producer and Series Producer, Silvia Sacco, about her work on shows including Italy Unpacked, and the BAFTA-nominated Art Of… strand.
What is a typical working day for you as a series producer?
That depends which phase of the production we're in. At the very beginning, reading a lot and meeting possible directors, and meeting with the commissioners to understand what they expect. In the middle, scripting with the directors, talking to possible contributors, working with the researchers, fixers etc. Then on location (I am on location most of the time) while filming, following by viewings in the edit and also fully editing at least one of the films in the series at the end.
You graduated with a master's degree in Philosophy & Ethics. What made you want to pursue a career in filmmaking?
Good TV is the best tool to democratise culture! There is no point in studying a lot if you are going to spend the rest of your life keeping it to yourself or communicating it with only a few people from a similar background.
I love it when I receive emails from people from all walks of life: saying that they've bought a book about Russian painters or booked a more cultural holiday having seen my programmes; how at school they hated art, but loved the doc about Michelangelo; that they always thought that art & culture were boring and were surprised to find they're not; that they are old in bed and now they can travel again thanks to one of my programmes.
During your career, you've had the opportunity to travel all around the world. Out of all the different locations you've worked in, which one did you enjoy the most, and which presented the most challenges?
I have been very lucky and I can say that I have amazing memories of each location/ country I have filmed in. I do mainly culture, art and food documentaries; I've found the people from those backgrounds to be very nice all over the world! They are always very welcoming, very passionate and proud of their culture. The bureaucracy related to filming permissions can be challenging (and unfortunately sometimes a bit too expensive) but as I say, the majority of people are very helpful so most of the time we can find a solution to everything eventually.
You've produced many series centred on art, food, travel and culture. What is your favourite type of show to work on, and are there any other genres you'd like to turn your hand to in the future?
I really liked working on art and culture series with a twist (food, history, politics – for example The Art of…, and Italy Unpacked). I would love to work on more observational programmes and I would love to work on no-character lead documentaries where 'real people' tell the story.
You've worked on all aspects of the production – which part of the process do you find most challenging?
I think each phase has its challenges. It's important to know the story you want to tell with each film but also to keep an open mind; whenever unexpected things happen, although they haven't been scripted, grab them, because they might just make a big difference to the final film.
You've had many of your own ideas come to life – where do you take inspiration from, and what is the process of turning an idea into a finished programme?
Inspiration: it's a mix of everything that surrounds me now, and memories from my past. I love working with the memories from my childhood. When I work with presenters I tend to ask quite a lot about their childhood memories too.
Do you have any programme ideas in your head that you'd love to get made one day?
Yes, two. And the accesses are pretty amazing!
What advice would you give to people looking to further their career in filmmaking?
You really need to believe in yourself, do not feel defeated by the first 10 nos! You need to have a good work ethic and it's very important to be able to work as part of a team, which is one of my favourite things. Some people think that creativity is a random wild thing… that's true but it also needs to be tamed as well. You need to be a bit of an alchemist and be able to perfectly measure all the ingredients that make a great film.
Silvia is a Series Producer and ProductionBase member. If you'd like to be featured in a future Q&A, get in touch with the team!