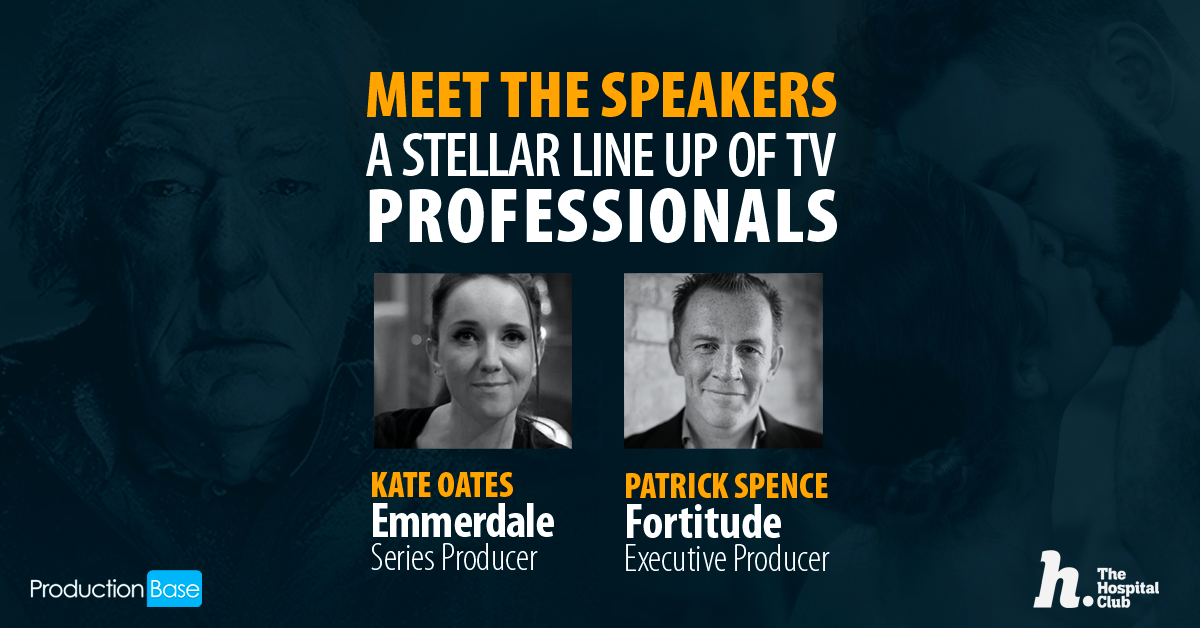 The PB Team returned to The Hospital Club this week, where we were joined by another full house in The Oak Room for the latest in our Turn On, Tune In series of events. We were once again joined by two top speakers from the world of TV, revealing the secrets behind the success of their shows.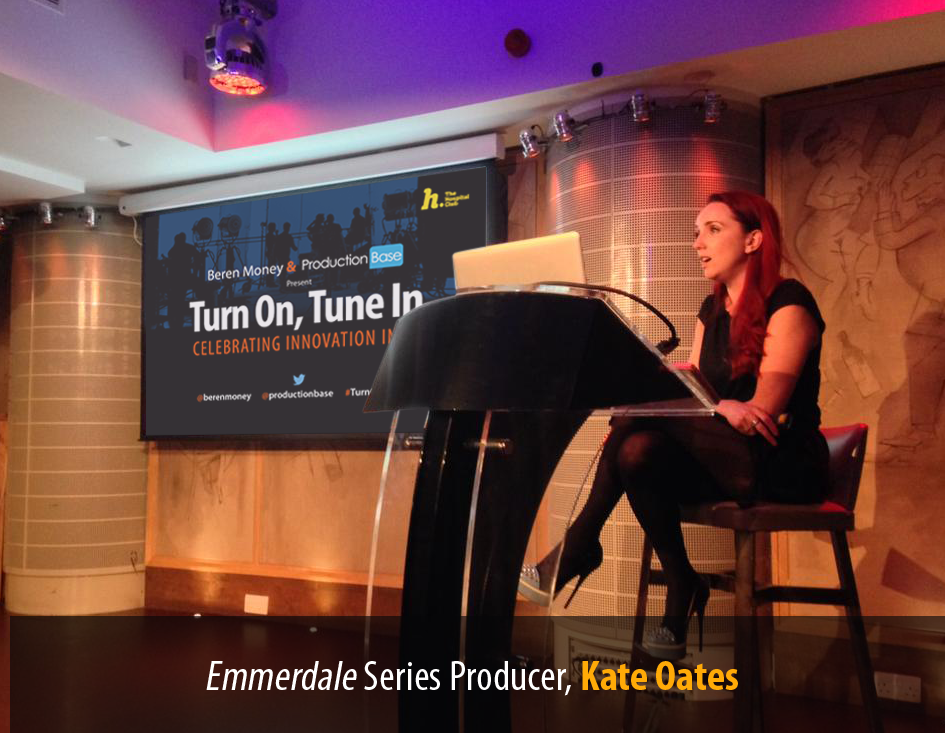 First up was Kate Oates, Series Producer on ITV's now 42 year old soap, Emmerdale. The show's now well beyond it's 7,000th episode, and she discussed the huge challenge of putting together 312 half-hour episodes every year, with a minimum of six episodes completed every week. Producing such a huge volume of content in such a short space of time requires an army of more than 300 production staff, working in three separate units. Emmerdale is filmed across five studios in Leeds, and separate location set in the Yorkshire Dales, and with such a tight schedule, Kate also discussed the need to balance studio and location time – with an around 16 minutes of completed footage per day in the studio, versus only 8 on location.
Budgets are generally tight across TV these days, and Emmerdale is no exception. The team like to put together several spectacular showpiece storylines over the course of the year, such as the Woolpack Flood & Siege, which won 'Spectacular Scene of the Year' at The British Soap Awards in 2014. These generally require additional budget from ITV, and can put huge time pressure on the production team. The siege episode was filmed in a purpose built set at Pinewood Studios, including a full-size replica of The Woolpack pub, and took more than 20 days to film, compared to the usual 9 or 10 for an average episode.
Kate also discussed the change in viewing habits over recent years. Despite only having a small social media team working on Emmerdale, they are expanding the amount of additional content they make available online, including behind the scenes footage and unique content, to try to get a new generation of viewers engaged in the show.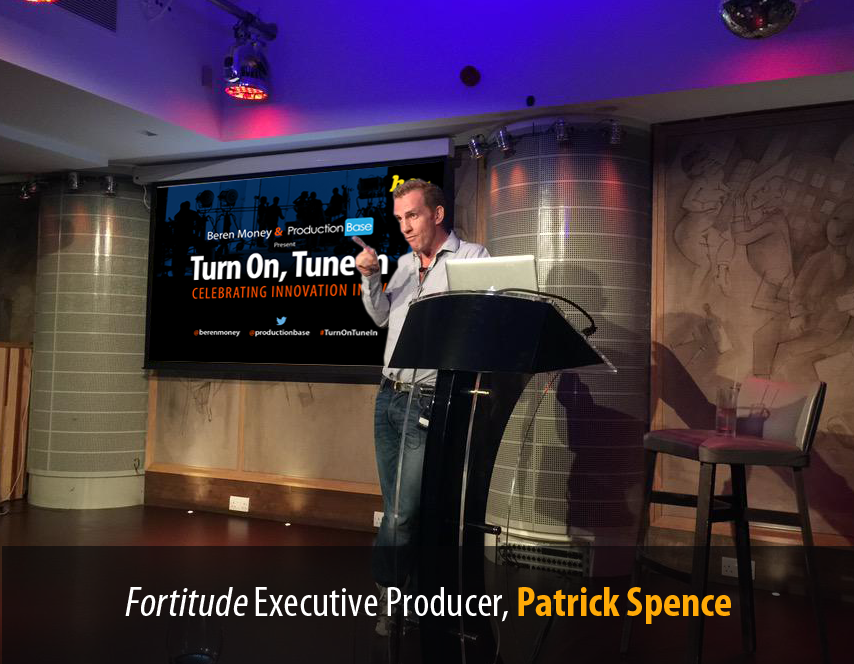 Our second speaker on the night was Patrick Spence, head of Tiger Aspect label Fifty Fathoms, who discussed his work across a range of award-winning dramas, and his passion for storytelling.
Patrick highlighted the huge importance of scriptwriters, and the scriptwriting process, with more of his time at Fifty Fathoms spent on seeking out talented writers than on anything else. His purpose is to serve the writer, help them refine their vision, and put it on screen without the original idea being lost along the way. The Executive Producer should always meet the writer's needs rather than the broadcasters, and always be their biggest advocate. He highlighted his work with writer, Guy Hibbert, on the film Five Minutes of Heaven, based on the story of former UVF member Alistair Little, and documenting a fictionalised meeting between Little and his victim's brother. Hibbert eventually met both men and received their input into the script, and this ultimately was one of the reasons for the success of the film.
He also discussed his work on Sky Atlantic's big-budget thriller series Fortitude, which was the channel's biggest ever commission. Set in an isolated Arctic community (based on the city of Svalbard, one of the most northerly cities in the world) the show was a unique mix of the crime thriller and horror genres, showing what happens when our own instincts are overwhelmed by an inhuman force. There were some huge challenges in filming the show, not least of which was the that fact during both the two week location filming blocks in Iceland, there was no snow to be seen! Overcoming this involved importing four different types of fake snow all the way from London.
A huge thank you to everyone that came along, and of course to our speakers on the night, who gave a fascinating insight into their work. Hopefully a good night was had by all!
@ProductionBase #TurnonTuneIn was great tonight. @Patrickspence2 spoke such truthful words about writers.

— Elizabeth J Cassidy (@elizajcassidy) June 23, 2015
Thank you @Patrickspence2 for your very open/lively talk tonight about your work with @Fifty_Fathoms & cheers @ProductionBase #film

— Jean-Christophe (@jclanoe) June 23, 2015
Half time at #turnontunein. Great insight on soaps from Kate Oats. Excited to hear what Patrick Spence has to add! #Drama #TV

— Daisy (@_ThePledge_) June 23, 2015
The next Turn On, Tune In event takes place at The Hospital Club this Autumn. Look out for more details soon!