We look ahead to tonight's ProductionBase Turn On, Tune In event at The Hospital Club. Our speakers on the night will be Andy Brereton (Head of Comedy Entertainment, Tiger Aspect) and Sebastian Grant (Executive Producer, Tiger Aspect) who'll be discussing BBC Three's high-concept reality show, I Survived A Zombie Apocalypse – described by critics as "a cross between Big Brother and The Walking Dead, pitting housemates against an outside world of flesh-hungry zombies."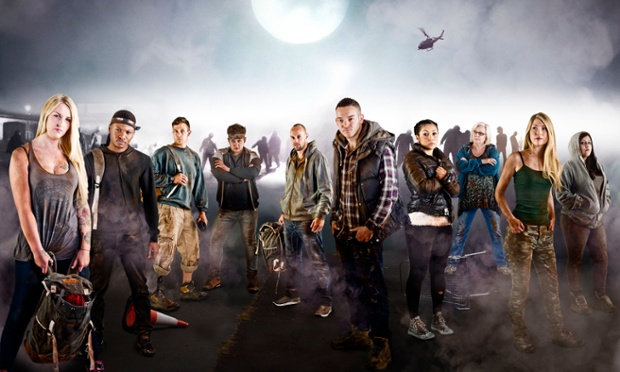 Described as 'the toughest reality show on TV', the first 7-part series of I Survived A Zombie Apocalypse debuted on BBC Three in February this year. Set six months after the population was exposed to damaging radiation, the show initially features ten contestants, who must survive for seven days in an abandoned shopping centre which has been overrun by zombies. The contestants have to complete various tasks each day, including making a base, and securing food and supplies. The key rule is to avoid zombies at all costs as even a slight touch results in death and elimination from the game. Each 60 minute episode covers the events of 1 day of the game, interspersed with commentary from presenter, Greg James, and diary room-style one-to-one footage, taking reaction from the contestants.
Andy and Sebastian will take us behind the scenes to reveal the processes and challenges involved in making a show described by BBC Three Controller, Zai Bennett, as "a reality event on a huge scale".
Andy Brereton's career in TV has taken in a number of leading indies and broadcasters. After a spell at Talkback Thames, where he was involved with the development and production of BBC Three's The King Is Dead and ITV1's Take Me Out, he joined the BBC in 2010 as Executive Producer for Comedy Entertainment Development, contributing to shows such as That Puppet Game Show. Andy moved to Tiger Aspect in 2012, where projects have included Drunk History for Comedy Central and Crackanory for UKTV. Current shows in production include Murder in Successville for BBC Three.
Sebastian Grant has worked for a number of leading UK production companies and broadcasters, including Endemol, BBC, Princess Productions, ITV, Lion Television, Planet24 and At It Productions. He is currently an Executive Producer at Tiger Aspect.
Doors at The Hospital Club open at 6.30pm, and the speakers will be followed by networking drinks. All places for tonight's event have now been filled. To make sure you receive information on future events, please email info@productionbase.co.uk.