Being at university is about more than lectures and the local pub! ProductionBase blogger, Sharon Boyd, looks at the range of activities and events available for TV and film students.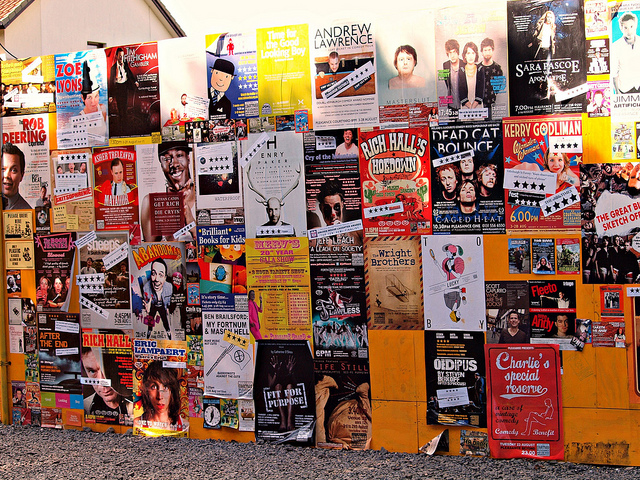 In the UK there are plenty of opportunities to find events and activities related to film. In Scotland there is the Edinburgh Film Festival that took place in June of this year. The Festival promotes the very best of international cinema. Films such as Little Miss Sunshine, Billy Elliot and The Hurt Locker premiered at the Edinburgh Festival, so it's a fantastic place to catch some high quality filmmaking. Recently Sheffield's Documentary Festival took place which included documentary film screenings, debates and talks. In Northern Ireland some upcoming events include a talk by Catherine Geary who is the location manager of Dracula Untold, taking place in September. Northern Ireland has also previously had the Game of Thrones exhibition available to visit. The UK is full of places to go to watch films as well as learn about them. Carrying out research will assist you in discovering what your local area has to offer in terms of film based activities and events.
For students in London, it can be a place that's both daunting and exciting. There are a wide variety of pubs, nightclubs & restaurants to discover, amongst many other different activities to keep any young person happy. While in the big smoke many students take for granted the range of things to do that actually relate to their degree and career. Anyone in the UK interested in film who has an opportunity to come to London even for a visit, should maybe consider something different to the London Eye and instead find something less touristy.
The London Film Museum is based in Covent Garden and Southbank and they hold exhibitions related to film. There most recent exhibition is 'Bond in Motion' which showcases numerous original vehicles that were in the films. The exhibition itself is well set up with the opportunity to view the original storyboards, concept art and scripts, before moving downstairs to see the cars, motorbikes, aircrafts and boats from numerous James Bond films. Scenes in which each piece of transport appeared, play alongside each vehicle and there are also iPads giving little facts about the vehicles and the film. The exhibition successfully brings you into the scene through all of the sounds and visuals employed, for example, when it comes to looking at the water based vehicles, the lights are reminiscent of what it's like when you're in an aquarium. It's as if the sea water is reflecting off the walls. As well as this there are model vehicles and a few other bits of memorabilia dotted around. The London Film Museum offers concession prices for students at £9.50 per ticket, which is £5 cheaper than a full priced ticket. Whether you are a Bond fan or not, the fantastically curated exhibition is worth a visit for anyone who might have even the slightest interest in film, cars or for someone who just wants to try something different. Other exhibitions have included Charlie Chaplin and Star Wars.
Located in the City of London, The Barbican is for anyone who wants to be inspired by the arts, including dance, film, music, theatre and visual arts. The Barbican has screen talks & events such as, 'Doctor Who: Deep Breath + Q&A with Peter Capaldi', or 'Cathedrals of Culture' which brings together several directors who each offer differentiating artistic approaches to iconic architecture. Some of the upcoming talks and workshops include, 'In Conversation: Videogames' and 'Constructing Worlds: Photography and Architecture in the Modern Age'. There aren't any workshops directly film related scheduled yet, but it's always good to try and keep an eye out. The Barbican also host the likes of 'Focus' which is a group for 12-18 year olds who meet to watch a selection of films and analyse and discuss them with one other. So if you've just left school to start University, or if you have a few years before you get there, then groups like this are worth giving a go. There are also many other groups that the Barbican has that may be more suitable for your age group and interests.
Meetup is a website used by a massive variety of people and it advertises numerous activities, from sports, arts and culture, outdoor activities and anything else you can think of. Amongst these there are also many film production based groups to discover such as 'The London Movie Meetup Group' and 'Filmmakers United', as well as more specific groups like 'Fantasy, Science Fiction and Comic Book Films' and 'London Silent Film Meetup', for instance. There are groups on Meetup based across the UK such as Manchester, London, Bristol and Kent. Anyone can create these groups and post them online trying to find likeminded people. Exposing yourself to these different groups of people is a good way to network, learn more about your subject and to engage as much as possible. Some of the groups may just go to see the latest blockbusters, others may have events that involve talks, exhibitions and more art house films, and still others may be interested in joining together to make their own productions. Whatever it is you're looking for Meetup is sure to have it, and if it doesn't then why not start a group yourself. For all you know there are other people out there looking for the same thing.
London Film & Comic Con will be coming to Earl's Court in October 2014, which will have both free and paid guest talks that could be relevant to your degree or career. The full timetable isn't available yet but some guest announcements include people who worked on Doctor Who, Star Wars, Red Dwarf, Pirates of the Carribean and Battlestar Galactica. MCM London Comic Con will also be taking place in October 2014 at Excel, and in previous years, such as the 2013 Comic Con, some of the talks were film related. For instance, the Screenwriters Q&A in 2013 had writers from the likes of Teen Wolf and Falling Skies answering the audiences questions. Some of the information could be hugely relevant, and if you have any questions yourself events like this are the perfect opportunity to get them answered by the professionals. So although you may not be interested in every aspect of the event, check out the time table to see if there is anything that you would find beneficial to you. As well as the London Comic Con's, they are also hosted in Belfast, Sheffield, Glasgow, and various other places.
The London Film Museum, the Barbican, film Meetup groups and Film Festival & Comic Con events are just a few of the things the UK offers any aspiring or existing filmmaker. There are of course many more things to do that can be discovered through advertising, so keep an eye out in your local newspaper or while you're sat on the tube, train or bus! Check out local blog reviewers, Timeout magazine and even Trip Advisor. You'd be surprised at what you can find if you do some research. Concession prices are something students really should take advantage of because regular prices can be expensive. London isn't the only place to find film workshops and lectures, so If you really want to get the most out of your location, find yourself some events, talks, activities or groups that can instil creativity in you, help you to build a network and most importantly help you grow as a filmmaker through the knowledge and skills you can gain along the way. The UK is full of opportunity, make the most of it!